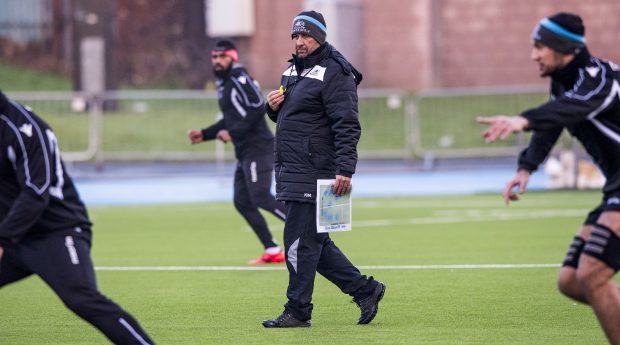 Comparing Edinburgh's recent run of wins and Glasgow's struggles in Europe is "apples and pears", believes assistant coach Kenny Murray.
The Warriors' tests in Europe have been much stiffer than Edinburgh's which Murray believes puts them in a good place ahead of the first leg of the 1872 Cup at BT Murrayfield on Saturday.
"Who had the better preparation? It depends what coach you ask," said Murray. "I'm sure Richard Cockerill will be saying they were able to rest a few players for this game, whereas for us it's that we played against the best team in the French league, a real physical group of men.
"So we're pretty battle-hardened from that game. We didn't suffer much injury wise other than some bumps and bruises, so we're in a really good place physically from the game at the weekend.
"But we're not going to contrast us losing with them winning because for me it's apples and pears. They're playing a Russian team and scoring 78 points; we're playing the best team in the French competition as the results show."
Murray said he didn't expect to even look at Edinburgh's 78-0 thrashing of Krasny Yar last week.
"For us it's about looking at what Edinburgh do and we're spend a lot of time analysing what their strengths are, what their weaknesses are, where the opportunities are and we'll build a gameplan based around that," he said.
"I probably won't even look too much at the Russian game in terms of my preview, I'll look at the games they played before against London Irish and the Ospreys, games where we can take a lot more from it."
Murray does think that Cockerill has got Edinburgh "playing a lot more rugby".
"They definitely mix it up a bit and try to play with a little bit more width than they used to do," he said. "That's an area we'll need to be really good at.
"They are physical, Edinburgh always were under Alan Solomons, they were very direct and I think they've still got that about them with Richard Cockerill, just that mentality having come from that Leicester background of a forward pack that was really dominant.
"I think he's got that into the team and you look back to the autumn Test series, there were a lot of Edinburgh players involved in that Scotland team, more than previous years, so we're really clear about the challenge we have this week, particularly up front."
The Warriors have a good record at Murrayfield against their rivals, losing only twice in the last seven visits, but they did lose at Scotstoun to Edinburgh for the first time when the teams last met.
"That was a disappointing one, it's the Edinburgh-Glasgow game, it's more than just a scoreline at the end of the day," admitted Murray.
"It was a difficult end to the season for us in terms of not getting where we wanted to be, so we want to make sure, particularly when we come back here in the second game, that we do well.
"But we've done well at Murrayfield and put in some good performances there in the past. A lot of our Scotland boys have played on that pitch regularly, so we'll be ready and prepared."