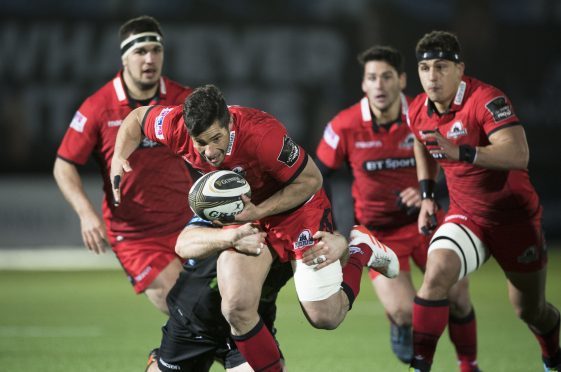 Edinburgh won't let their defeat in the 1872 Cup second leg stall the momentum they've built up over the last two months and are aiming for three more wins in January.
Centre Phil Burleigh reckoned the scoreline didn't reflect the game in the pre-New Year match at Scotstoun, when the Glasgow Warriors got revenge for the 18-17 defeat at Murrayfield by shutting out their Inter-City rivals 17-0.
And with PRO14 cellar-dwellers Southern Kings due at Myreside in Friday night, the capital club are aiming to get back on the winning groove immediately.
"There are some huge positives to take from that game," said Burliegh, who won his first Scotland cap as a replacement in the thrashing of Australia in November.
"We broke through them a lot, probably more than they did us. Our defence was good and it was only 6-0 with about 20 minutes to go. It's something we've prided ourselves on all year and it's something we can take away from the game.
"We feel we're still moving in the right direction. We put a really good effort in against a very good Glasgow side, we were more physical than we used to be and we didn't take a step back.
"A fair reflection of the game I think would maybe have been 12-0, it was a shame they scored at the end but never mind, we still move forward."
That means the winless Kings on Friday, who Edinburgh torched for seven tries and a 48-21 scoreline in Port Elizabeth at the beginning of December, quickly followed by two games against old friends Stade Francais Paris to complete their so-far perfect European Challenge Cup pool.
"Most guys will say we just think week to week, but it's true we're thinking of Stade now," admitted Burleigh. "We've got the Southern Kings this week, we'll take a lot of learning a lot of things from the Glasgow game and look to move forward in the Pro14 first.
"We'd like to take the four or five points from the Kings game. But yes it's something to look forward to against Stade Francais. A good European match, hopefully we can put them away and get a home quarter-final. We'd like to win both games of course.
"It was really good to beat them last year but they are a different outfit now. We'll have a look at them in the coming weeks and see how we go about beating them."
"They Kings like to shift the ball a lot, pretty much helter skelter rugby. I'm not sure they'll like the cold and the snow but I'll look forward to playing them again. It will be a good opportunity to get back in that winning groove."
Scotland open side Hamish Watson believes that Edinburgh are starting to gain real respect with the way they've developed so quickly under Richard Cockerill.
"Cockers has definitely got us all heading in the right direction, everyone can see that," he said. "We are definitely closing that gap on the top teams and people are starting to realise that now.
"We are still growing as a team, we are quite young and will learn from Saturday. We have to learn when to give those last passes and when to hold onto it and go again next phase when they will be stretched.
"We're definitely chasing down Ulster (in the PRO14). We closed the gap last week and we are heading in the right direction. Edinburgh is in a pretty good place at the moment."