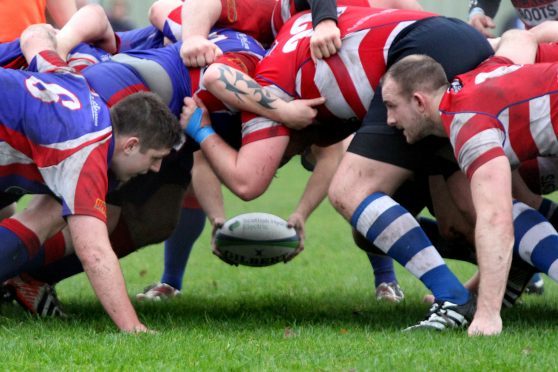 Kirkcaldy took a huge step towards their goal of promotion back to BT National League One with victory last week but there's still so far to go that no-one's taking their nose off the grindstone.
The Blues' transformation from a stuffy mid-table side last season – albeit one that seemed to get on the wrong side of close results too often – into this season's powerful and ruthless unit was underlined as they dismissed nearest challengers Dumfries Saints with a bonus point victory.
It means they are now six points ahead of Dumfries with a game in hand, with Lasswade nine points further back in third and still to come to Beveridge Park on March 3, which could well be when the league title gets put on ice.
There's no such talk among the coaching team however, with plenty of potential pitfalls to come in the next month and a half should the weather stay fair. One such might be the meeting scheduled for this weekend with a GHK side whose inexorable rise from the west regional leagues has stalled at this level this year, but remain a tough nut on their own paddock.
Last week was another example of Kirkcaldy's forward power and aggressive defence proving to be their foundation, even with three of their regular forwards out injured. But there's also some cutting edge as well with centre Josh Laird, making his first appearance of the season after a lengthy lay-off with a knee injury, marking his return rather spectacularly with a hat-trick of tries.
Head coach Chris Martin's view that the hard-fought win over Hamilton could be the spark for Howe of Fife's season got not contradiction at Burnbrae last week as his resurgent rolled to an impressive 27-6 victory against a West side that had been particularly strong at home.
That win took Howe up to seventh in the division and just four points in arrears of today's hosts Peebles, although this week's heavy snowfalls in the Borders make the visit to the Gytes rather unlikely to be fulfilled until later this season.
But there's plenty of optimism to be had at Duffus Park. As next week's game scheduled fixture was with the now-absent Aberdeenshire, the next time the Howe play the last of the short-term suspensions imposed by the SRU will be completed and Martin will have a stronger hand to pick from.
In National One Dundee High head for Raeburn Place to meet the division's apparent invincibles, Edinburgh Accies. They have 13 wins from 13 and on just one occasion – against Gala at Netherdale in October – have they failed to pick up a try bonus point.
The meeting of the clubs at Mayfield was a fair old contest, even if it confirmed the Accies are the class of the division. High felt that they might have won on last year's visit to Stockbridge, however, and know that they can only play better than they did in last week's dispiriting scoreless second half against Kelso.
Head coach Colin Sangster's chief disappointment after that game was that he felt the side he had picked had massive potential, packed with young talent which should hugely benefit the club going forward. Perhaps the experience of last week will be the making of many of them.
It was as-you-were in the battle at the foot of National League Three with none of the bottom four teams able to make any ground on each other. Perthshire remain in ninth after being well beaten by an impressive St Boswells team at the North Inch.
There's no respite for `Shire on their travels this week with another promotion candidate to face in second-placed Glasgow Accies at New Anniesland, if the snows enveloping the west clear in time.
This week was supposed to the significant round of Caledonia Division One with leaders Caithness coming south to take on nearest challenger Strathmore, but Dunfermline tore up that narrative last week by beating the Forfar side at McKane Park.
Caithness' won impressively at Alloa for their ninth successive victory, although they were held without a try bonus for the first time in that run. It means the Northerners now have a  nine-point cushion at the top, although Strathie still have a game in  hand.
It's definitely the home side who need the result this weekend more than their visitors, but Caithness have been pretty impressive in their many trips down the A9, at least when it's been navigable.
There was no change in Division Two Midlands with both Hillfoots and Balirgowrie winning handsomely, and there will be no change this week either as both clubs have no scheduled fixtures.
Finally, it would definitely be remiss of this column not to mention the standing-room-only turnout at Dundee Crematorium yesterday at the memorial service for Ron Greig, illustrating his huge popularity in the city's wider rugby fraternity.
Ron, who died on January 3 aged 77, will always be most associated with Harris Academy FP, for whom he was a tough and uncompromising forward playing well into his 40s. He had two stints as captain of the Elliot Road club, played for city selects and the North and Midlands, also serving a term as president of the Harris Sports Club.
After he eventually retired from playing Ron was to be found most Saturdays not just at Elliot Road but also on the touchlines and the lunch clubs at Dundee High, Morgan and Panmure, lending his full support to all Dundee's rugby clubs. That presence was reflected yesterday with many representatives of all the city clubs at his funeral.
Ron was every bit as brave he'd been on the pitch in his battle with illness over a prolonged period. He was a proper Dundee rugby man and will be sadly missed.
BT League fixtures this weekend (all kick offs 2pm)
National League One: Edinburgh Accies v Dundee High Rugby.
National League Two: Peebles v Howe of Fife, GHK v Kirkcaldy.
National League Three: Glasgow Accies v Perthshire.
Caledonia Division One: Strathmore v Caithness, Aberdeen Wanderers v Grangemouth Stags, Harris Academy FP v Dunfermline, Glenrothes v Banff.
Caledonia Division Two Midlands: Kirkcaldy II v Carnoustie HSFP, Panmure v Falkirk II, Morgan Academy FP v Kinross, Stirling County III/Bridgehaugh v Madras Rugby.
Caledonia Division Three Midlands: Rosyth Sharks v Stobswell, Perthshire II v Howe of Fife II,
Glenrothes II v Grangemouth II, Bannockburn v Hillfoots II, Bo'ness v Arbroath, Dundee University Medics v Angus Development.