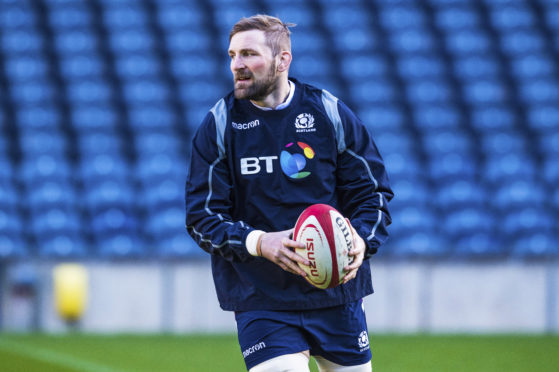 Wales may have ten of them, but Scotland's Scarlet doesn't think they'll play like the West Walian team in form in the NatWest 6 Nations opener in Cardiff.
With so many of their frontline players injured, Warren Gatland has turned almost wholesale to the Scarlets, the PRO12 champions and the in-form team in the European Champions' Cup.
But Scotland skipper John Barclay is sometimes captain of that team as well as his country, and he thinks that their particular style is one that may not fit in Gatland's philosophy.
"They are two different teams and Warren obviously has his way of playing, so I'd be surprised if they suddenly tore that up and adopted a totally different style," said Barclay.
"Maybe they will bring in elements of the way Scarlets play because of the numbers they have or maybe it will happen naturally on the pitch because of the combinations the guys are so used to from week in, week out at club level."
The Scarlets' scheme has taken several years to perfect, he added.
"We play a certain way at Scarlets that suits the players we have, and it's traditionally how the people of West Wales want their rugby played," he said.
"I don't know if it can be merged (into Wales' gameplan). It's a totally different team.
"They have got 10 guys who play for Scarlets but also five guys who don't. It's taken a long time for Scarlets to play that brand of rugby. I don't know if it can be created in a week for the other guys and I don't think they will try to."
His own perspective on the 10 Scarlets players in the Wales team – outwith sharing various shenanigans of the club team mates on Snapchat – has been more about individuals than team structures.
"There's been a little advice on traits, what their guys don't like when players come at them," he said. "There is so much footage nowadays, everyone can see for themselves if they look at the tapes. A couple of guys have asked questions and you can narrow it down for them."
The Scots haven't really discussed Wales' catalogue of injured stars and Barclay thinks many of the Welsh will be motivated to prove a point.
"Rhys Patchell I was chatting to a couple of weeks ago and he didn't think he would even be in the training squad but now he has ended up starting at ten," he said. "As a friend I am delighted for him, and  I know how good he is.
"Guys like like Samson (Lee) are coming back in, Aaron Shingler has just got back into the team after years of being overlooked. They will want to stay in the team I am sure.
"Scott Williams was not in the training squad in the autumn and he is starting now. There are a few of them. They are playing quality rugby and deserve to be there, they are motivated and confident."
To beat Wales as captain for the second successive year – it was his first start in the job last year – would be satisfying for Barclay not to put one over on his mates, but because he knows the effort it will require.
"I've got so much respect for the guys down there," he said. "It's not so much about bragging rights, I know how much they put into it and how much rugby means to them and to the Wales team.
"So it'd be great just because I know how hard it is to be them, and because I long it has been since we won down there."
Playing in the Principality Stadium – Barclay scored in the infamous 2010 game but doesn't remember much other than "all the injuries and the crazy last ten minutes" – will inspire the Welsh but also the Scots, the skipper added.
"They've got the best if not one of the best stadiums in world rugby and it's unbelievable to play down there, a privilege," he said.
"They must get a buzz off it, they must thrive off it, so like any away game you want to try to quieten that crowd.
"The expectation down there on the Welsh team is huge, rugby is like a way of life down there, so like any away game you've got to try and start well."