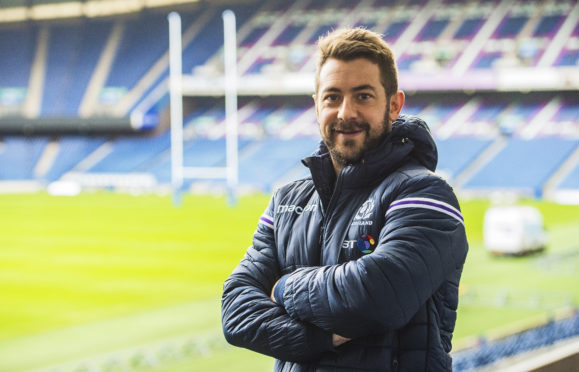 He's no longer captain, but Greig Laidlaw sounds like a man who is going to take charge as Scotland seek to get their revival restarted against France at BT Murrayfield.
The veteran scrum-half is back in the team but among the ranks, as John Barclay retains the captaincy he inherited when Laidlaw was injured against – naturally – France last year.
He hasn't played for Scotland since, missing the rest of the 6 Nations last year, recovering from that ankle injury but touring with the Lions rather than going with new coach Gregor Townsend on the national team's summer jaunt.
Then a broken leg suffered playing for new club Clermont-Auvergne in – obviously – France meant he missed the entire Autumn Series.
In his absence it seemed like Ali Price had taken a grip of the 9 jersey and was a better fit for Scotland's avowed wish to play speed-rugby. Some thought Laidlaw's time might be up with exciting young scrum-halves like George Horne on the horizon.
Well, you don't miss your water `til your well runs dry, and Scotland's suffered a sudden drought in Cardiff. The wise old head is needed to apply the brakes and bring some organisation and authority to the chaos, although he sees himself as a counsellor rather than the outright leader.
"Gregor's named me as a vice-captain but nothing changes because Barcs is a great captain," he said. "He's shown that at the Scarlets and with Scotland, especially in November.
"I'll slip right in to help him out. He'll deal with the forwards and overall, and I'll take care of the backs. We'll constantly be talking, we've done that all week and it'll be no different in the game."
Laidlaw will also be in the ear of his half-back partner Finn Russell, and while no-one says they want to reel in the mercurial stand-off, there's much talk of "pragmatism" and taking the safe option.
"In international rugby at test level you have to understand the ebbs and the flows of the game," continued Laidlaw. "There will be times you have to keep going, keep hammering them.
"But there will be a time in the game on Sunday when we will be under the pump, that is for sure. We are playing against a good side here and we will have to grab the game and maybe slow it down maybe just for a couple of minutes."
All the talk of chaos can be "misleading", he continued.
"We don't want it to be frantic. We want to play disciplined rugby that is also quick rugby. at times we got away from that last weekend, there is no denying that.
"If we want to play fast we also need to be ready,  maybe need to be a bit more pragmatic. Play that test rugby mentality to get the ball down the field and back our defence."
He loves Russell's "excitable" nature but will make clear to him that sometimes prosaic options are the right ones.
"Finn wants to always attack, but he understands this test match rugby," continued Laidlaw. "I will be encouraging him to pick up his head, see what is in front of him.
"If they have 14 boys in the front line there has to be space in the back field. If there is space in the back field we get it down there and we back our defence.
"I would never take that (flair) away from him. I can help steer him from inside, the centres have a big role in doing that as well because they have a little bit more time and space to read the game."
Laidlaw's last act at Murrayfield in a Scotland jersey was his clinching penalty against Ireland with Flower of Scotland ringing around the stadium, and he believes those in the stands have a big part to play.
"We were only were beaten once here in the calendar year last year, and that was the New Zealand game," he pointed out. "That is something we will be hammering home. This place is becoming an extremely difficult place for teams to come to.
"This week is the beauty of the sport. We can get back on the horse after Cardiff and fix things in a week. It is up to the boys who have been given the honour to wear the jersey to get out to show what it is to play for Scotland.
"We have to defend for each other on the field, look after each other, knock those french boys down, tackle them low. They won't like having to keep getting off the floor. We will have to keep tiring them out, both in defence and attack."