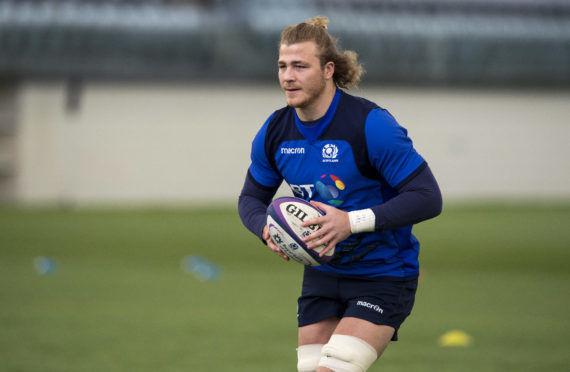 The mature David Denton wouldn't give any advice to the 22-year-old who burst on the scene in the Calcutta Cup six years ago but would take plenty – except maybe on hairstyles.
The powerful backrower made a telling return to international rugby after 18 months away with an impactful display off the bench against France, and after struggles with injury and form he's learned that maybe his younger self had the right idea all along.
"The ignorance of youth, I suppose," he said. "I don't think I'd say anything (to the 22-year-old Denton).
"At that age you think things are just going their natural course. In the last couple of years I've tried to go back to that, not fretting over things that way you do when you're young and have nothing to lose."
Injuries and a change of club to Bath and then to Worcester derailed Denton a little, but while he still brings his staple talents of ball carrying and tackling, he feels he's a better player having just signed a three-year deal to play with Leicester from next season.
"Bath played a very different style to the style I had played before," he said. "At the time I was frustrated as it wasn't getting the best form me, but I would say my skill set has improved greatly because I was forced to do it.
"To get a game at the weekend I had to improve those parts of my game, be better in the wide channels, more skilful and distribute better.
"But at the end of the day the reason I will be selected for Scotland and my club is to get my head down and go forward. I won't forget that. It's just about finding a balance."
The Scots coaching team under both Vern Cotter and Gregor Townsend stayed in close touch with Denton throughout his tough spell, which he appreciated.
"They were very good, I was in constant contact with them," he said. "I always knew I was still in the picture and they let me know it was a matter of getting back to the player they and I knew I was.
"After the injuries it took me a while to do that. It took some physical and mental changes. I changed my approach to the game a lot in the past 12 months."
Now he's back at the fixture where he broke on to the scene in 2012 in his first international start, winning man of the match despite Scotland losing.
"I remember that game with fond memories, but it would have been better if we'd won and we had the opportunity to do that," he recalled.
"I'm friends with a lot of the guys on the England team. I played with George Ford for two years and It gives a great insight into how they want to play.
"But when you see them on Monday morning it's a lot easier if you've knocked them on their backs than if they've knocked you on yours."
The one thing about Denton that has got decidedly mixed reviews – even from his own family – is his new hairstyle, which he says tends more to the "man-bun rather than top knot".
"I've had a lot of stick, particularly from the family," he laughed. "It's like Marmite. Well, actually not many people love it; most hate it.
"I think it looks good, it's just everyone else…"