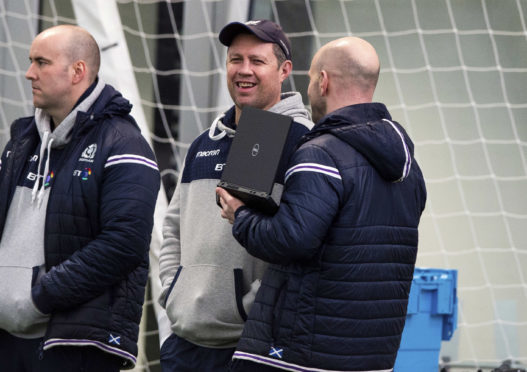 Last year's nightmare at Twickenham was among Scotland defence coach Matt Taylor's lowest points in his long tenure, but he's relishing the opportunity for revenge in this weekend's Calcutta Cup against the English at Murrayfield.
Taylor watched horrified as England sliced through time and again from the opening minutes on their way to a record 62 point haul, in a game when many Scots had been optimistic about a first win at Twickenham since 1983.
And while that game is in the past as much as better performances, the memory still clearly bristles with Taylor.
"It certainly wasn't my highest point," he recalled. "It was not great was it? When it is your profession and your full-time job and you concede so many points it is not a great feeling.
"We have all been in situation in jobs when you have a bad day. That was certainly one of those.
"Whatever the mitigating circumstances, you have to adapt. We needed to be better on that day. "History shows we have not been able to win down there since `83 so it has been a long time.
"But I certainly did not read any media that week after that performance. That is the past now. We are looking forward to this week."
England's lineout drills and the midfield combination of George Ford and Owen Farrell cut the Scot s to ribbons last year, and that duo are very much in Scotland's sights.
"They work well together," he agreed. "We have looked at how they play; they come on the short side in the middle of the field and pick off (gaps between) lazy forwards. They did that well against Italy and Wales.
"We will be doing our best to replicate their movements and the way they attack in training. They have a good kicking game and try to squeeze you through their kicking so it will be interesting to see how they play early on."
And while revenge for last year's match can be a motivator, it's not as if the Scots don't have a lot of revenge queued up for the Auld Enemy.
"We look forward to it because of last year but there are other reasons," pointed out Tyalor. "It is a decade now since we beat them.
"We play really well at Murrayfield. I am looking forward to taking on the second best team in the world. They are a very good team and it will take a good performance to beat them as they have only lost one in 24."
The key difference this time could be the Murrayfield crowd, he added.
"We all know that statistically teams do better at home, they've got the comfort of what they're used to. You've got the crowd behind you, which helps with momentum and the emotion of the occasion.
"Personally, in my time with Scotland this has been the most people have been ringing me up for tickets. Murrayfield has been a special place for the players and everyone involved in recent years. I'm certainly looking to the crowd getting behind us."