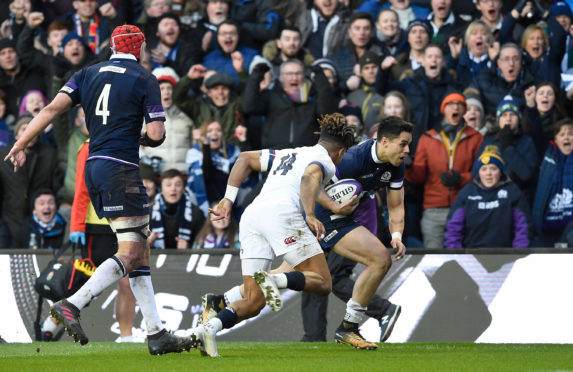 Scotland wins over England don't happen that often, so they tend to get defined by specific things.
There's The Walk, from 1990, of course, and the Storm, obviously, from 2000. The Sidestep, John Rutherford sending four Englishmen the wrong way in 1986. The Conversion, by Peter Brown to win at Twickenham in 1971. The Snipe, by Roy Laidlaw, the last time Scotland won at Twickenham in 1983. The Penalty, an Andy Irvine monster, to win in 1974. The Hit, by Jason White in 2008.
What about Saturday? It simply has to be The Pass.
? | Here's a look back from above at Sean Maitland's try and THAT pass from Finn Russell #AsOne pic.twitter.com/aIhVVGY6UZ

— Scottish Rugby (@Scotlandteam) February 26, 2018
The Pass. I'll never forget the collective gasp of the crowd as it hung in the air. See @thecourieruk tomorrow. https://t.co/jCUwL42ZLN

— Steve Scott (@C_SScott) February 25, 2018
It featured two of Scotland's three premier weapons of the game, Finn Russell and Huw Jones (the third was John Barclay whenever an Englishman took the ball to ground). And even at the time, The Pass – which started the breakout for Scotland's second try – felt like an absolutely seminal moment.
Scotland 25 England 13: Scots mix skill and grit to win shock Calcutta Cup victory
It was audacious, an indication that despite the criticism levelled at him after the first two games, Russell wasn't compromising his philosophy. As he fired it high and wide, just a yard outside his own 22, you could audibly hear the 67,000 crowds' hearts in their collective mouths.
This glorious, swooping pass is Finn Russell in microcosm. The execution is sumptuous, to float the ball over Joseph, carrying just enough to arrow into Jones' grasp. But the courage to trust his skills – on his own 22, having been castigated all Six Nations – is more remarkable. pic.twitter.com/7E4qUHeZoS

— Jamie Lyall (@JLyall93) February 25, 2018
Still finding it hard to believe this Finn Russell pass.

It's like something out of a dream, time seems to slow down in that split second before it lands in Huw Jones' hands.

Ballsy, creative, beautiful. pic.twitter.com/x9T4z1v4nC

— Murray Kinsella (@Murray_Kinsella) February 25, 2018
But it was perfectly executed (and therefore clearly pre-planned), with Jones meeting the ball at full pace as it fell perfectly bisecting the space between Jonathan Joseph and Jonny May. Both defenders were immediately compromised – although May actually did superbly to get back not only to block out a potential pass to Tommy Seymour but also to eventually haul down Jones – and the Scots were in behind England.
It needed Stuart McInally to make a further bringe before Russell, now at the other end, threw a shorter, less risky floater to Sean Maitland for the score. Just 28 seconds from The Pass to the try to take Scotland 15-6 ahead.
Jones ready for the next challenge in Dublin after achieving Calcutta Cup dream
Scotland's men become fifth best rugby team in the world following spectacular Murrayfield display
The score was obviously significant, but The Pass itself was more than that. It was a signal (there had been a few before) of pure intent – a message to opponents and to critics: this is the way we play, live with it.
It won't always work this well. But we'll never forget the day it did.