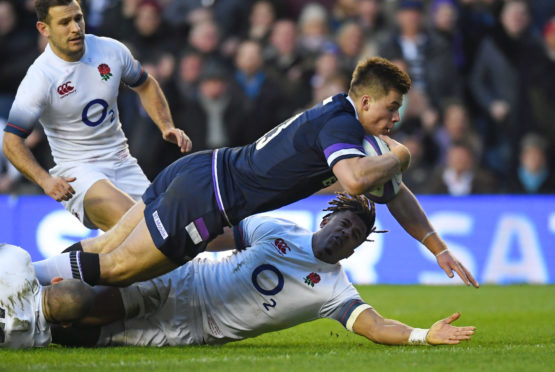 Huw Jones is basking in the glory of his great try-scoring run that helped Scotland to their thrilling Calcutta Cup victory, but knows that the acid test for the team is still to come in Dublin.
Jones took his try-scoring tally to 10 in just 13 starts with his brace of scores to help down the English 25-13 at a rocking BT Murrayfield and put Scotland squarely back in the chase for the NatWest 6 Nations Championship if they can stall another Grand Slam chasing outfit in Ireland in two weeks.
"This game is obviously a massive confidence booster, but we're under no illusions, we've got a really tough away game now," said the centre.
"We've turned Murrayfield into a bit of a fortress now. I think in our last nine games we've lost one and that was a real close one (against New Zealand).
"But if we're going to become a really great team we're going to have to start winning away, which we haven't really done for a while. That next game is a massive test and that's what we're thinking about now."
Jones has put himself in the picture to pip Stuart Hogg and Tommy Seymour to the Scottish all-time try-scoring record – jointly held by the legendary "Flying Scotsman" Ian Smith and Tony Stanger – but he thinks that internal battle is just indicative of how Scotland play the game now.
"There some good banter going on about that," he grinned. "But playing with those guys allows me the opportunities.
"The backline we have and the kind of rugby we play, it's always going to one of us scoring the tries – Sean (Maitland) got one today as well. The forwards do the hard graft to give us the opportunities. It's just been me getting the glory a few times."
Jones paid fulsome tribute to playmaker Finn Russell, who bounced back from the criticism levelled at him in the first two games with maybe his greatest performance for Scotland.
"Finn is Finn," he said. "He's different to anyone I know.
"He's got amazing confidence and we've all got massive confidence in him and his ability. I think he got helped out a lot by the other senior players this week, he's been chatting to Greig a lot and I think it definitely helped him.
"That pass (to start the move for Maitland's try) I think most 10s I've played with could probably do it, but only Finn would have the confidence. People say he's high-risk, high-reward and we got the reward today."
Jones added he appreciated what the Calcutta Cup meant looking at how veterans John Barclay and Greig Laidlaw prepared for the game.
"You could see how much it meant to the guys that have been around for a while, Barcs and Greig particularly," he said. "To see their faces after the game and how much it meant to them, it means the world to all of us, but those guys that have been around for a while and had some not so good times in a Scotland shirt, it's just massive for them."
Head coach Gregor Townsend branded the win as "an affirmation of the rugby we aspire to play" but conceded that his team had to replicate that form away from Murrayfield.
"That is going to be the challenge," he said. "It's a twin challenge in that we have to look at Ireland closely, what we need to do to beat them and what we need to do to get our game in place.
"But it is also about how we do much better away from home. It has been an issue for Scottish teams since the 6 Nations began.
"We have to make sure we played close to our potential. We have to make sure we are focused and ready and able to play accurate rugby. We obviously didn't do that in Cardiff.
"As a group, we talked straight after that game about what we had to do better in terms of our mental focus. But we knew we would not have another opportunity for a month because we had two big games at home to play. We will turn our attention to (playing away) next week."
Townsend also paid tribute to his lieutenant Dan McFarland for the way he had the Scottish pack working, stalling the English maul and gaining parity in the scrum.
"Dan has been outstanding in terms of the detail, whether that's around the contact area or the lineout. We made huge advances in November with the way we maul in attack and defence I thought we did that really well today.
"Our scrum has been really solid. That's a big credit to Dan, but it's also a big credit to the players who have come in."
Scotland's one injury worry was a heavy knock sustained by Tommy Seymour that saw him helped off after just over an hour to give 21-year-old Blair Kinghorn his debut, but the wing was walking freely during the after-match celebrations.