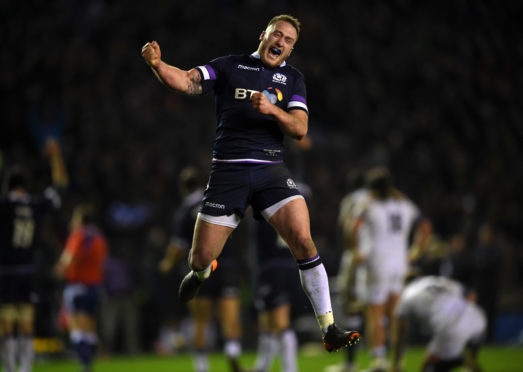 Maddening.
Yes, it was an unexpected Calcutta Cup win, definitely unexpected by a 12-point margin, the largest victory gap the Scots have enjoyed in the fixture since the record win of 1986.
Only Alasdair Dickinson, the injured Scotland prop, who predicted to a pre-match audience in a hospitality pavilion that Scotland would win by 13 (to polite disdain from all those gathered) has reliable witnesses of foreseeing such a famous victory.
These wins are precious and rare, and we treasure every one. But even beating an England team that had some belief of their own invincibility (not surprisingly with 23 wins out of 24 under Eddie Jones) and the splendid, thrilling manner of it doesn't make it any less maddening.
Because when the euphoria and the celebrations end, we're still left trying to draw a correlation between Scotland on Saturday – inventive, accurate, almost impenetrable in defence and at the breakdown – and the hapless Scotland of three weeks ago in Cardiff.
It was just as Scotland had played in the autumn, everyone agreed, and in the first 40 minutes they probably surpassed even that. The pre-championship talk of Scotland – which England head coach Eddie Jones memorably dismissed as them being "the darlings" of the media – was proved to be much more than hype.
Never before, in 147 years of trying, have Scotland led England by as much as 22-6 at half-time. Finn Russell, with all the attention and pressure on him, was inspired in prompting Scotland to attack, as they had done against Australia, from all parts.
England, supposed to be the best defence in Europe if not the world, were continually pierced, often by the most direct of assaults, such as for Huw Jones' second try, which was nearly a carbon copy of Brian O'Driscoll's famous score for the Lions in Australia in 2001.
When they had the ball, England were stalled in the maul, neutered in the scrum, and when inevitably a runner was felled their possession was under almost constant peril. Penalties and turnovers flowed, the twin pincer of John Barclay – my man of the match – and Hamish Watson simply destroying England at the breakdown.
The visitors suffered 13 penalties – their discipline issues were exploited – and 10 turnovers. And nowhere on the pitch was their possession safe.
I'm indebted to the statistician Simon Cleave for this gem – England got into the Scotland 22 ten times in the match, resulting in one try, one pass into touch, two turnovers and six conceded penalties, of which five were Scotland successfully contesting ball on the deck.
It was unquestionably the key to the match. England's apparent strength of playing such a huge pack was in the end a glaring weakness, and Eddie Jones' explanation that the breakdown is a collective responsibility in the modern game won't wash.
Their big guys are amazing, dynamic, athletic specimens, but they can't compete on the ground against smaller, immovable objects like Barclay and Watson, as well as Stuart McInally, acting as a third "open-side" on occasion.
It ensured plenty ball for Russell and Jones to work their magic, as both readily conceded after the game. The Scots have plenty weaponry to threaten anyone, and clearly a gameplan to reckon with.
For some beating England makes the entire season. For the rest of us, especially those who sat through them all, there's the nagging question – where was all this in Cardiff, and at Suva and Twickenham last year? And will they revert to that in Dublin, against an Irish team unlikely to be as accommodating as England?
We understand that within this style and gameplan there's a knife-edge, illustrated most by the mercurial Russell. This adventure, although slightly tempered by an intelligent kicking game, is the way we're going, and those calling for a conservative style have been properly silenced.
But all that still doesn't cover the difference between the inspiration of Saturday and the humiliation of those three capitulations.
At least there's an awareness of it from Gregor Townsend and from the team. They quite correctly parked the "away day" issue for the two weeks they had two home games to deal with, and will revisit it this week as preparations start for the Irish.
It's the key. We can be assured that at Murrayfield Scotland fear no one now, that the atmosphere in the stadium lifts them to new heights. And that's fantastic, the national stadium is a great place to be these days. As Saturday proved, it's wonderfully thrilling in itself, and it may be enough for some.
But if Scotland are to become something more than an admired group of adventurous mavericks who lose all their lustre away from EH12, if they're to become actual contenders, it's time to find the reason for that gap between the inspired and the hapless, and to plug it.