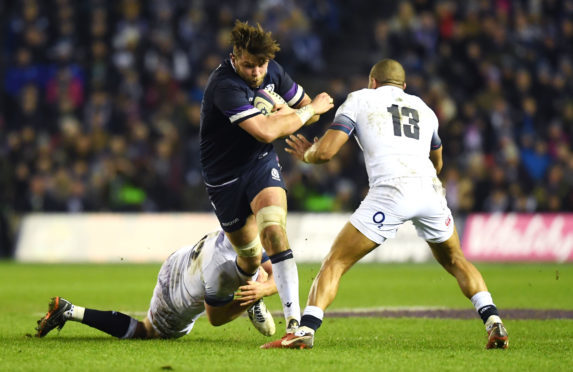 Ryan Wilson is free to play for Scotland against Ireland next week in the NatWest 6 Nations after a disciplinary panel said an act of alleged foul play in Saturday's Calcutta Cup victory over England did not merit a suspension.
The Scotland no 8 and Glasgow Warriors captain went before a hearing of Wales' Roger Morris and Olly Kohn and American Paidra Knight yesterday in relation to an accusation that he had made illegal contact to the eyes of England's Nathan Hughes during the first half of Saturday's game. Wilson denied the charge.
The committee accepted medical evidence on Wilson's behalf regarding a medical condition whereby the fourth and little finger of his right hand are involuntarily in a bent or hooked position and also determined that the contact with Hughes had been "reckless (rather than intentional), light and fleeting" and occurred as a result of Wilson's attempts to grab his opponent's shirt during an off-the-ball scuffle with Hughes.
While finding that Wilson had committed an act of foul play in making contact with Hughes' eye area, they concluded that the foul play had not warranted a red card and the citing was not upheld.
Therefore there is no sanction and Wilson is free to continue playing.
The 6 Nations will take no action over the Saturday's pre-match clash in the Murrayfield tunnel, believed to have involved Wilson and England centre Owen Farrell.
After viewing BBC and other footage of the incident the Six Nations committee decided there was "some evidence of pushing and shoving" but "no clear evidence of violent conduct…against any individual player".
Letters have been sent to both the SRU and RFU reminding "them and their players of their obligations to uphold the reputation of the tournament at all times" but no further action will be taken.
Meanwhile Scotland's coaching team think they've got a handle on why the team are so different home and away and are prepared to put it into practice against Ireland next week.
After the first session since the Calcutta Cup victory on Saturday – although not all players were able to make it the Oriam training camp due to the weather – forwards coach Dan McFarland said that the coaching team had identified issues from the loss in Cardiff that they would use going to Dublin.
"We've spotted some things about Cardiff, but we're not going to say because we don't want the Irish to know," he said. "But we know that first and foremost the away form is something that has to be addressed.
"There are ways of going about that. One is the mental side which we'll certainly be talking about, the second is making sure we have a plan going in there we're confident in and we believe is going to win it for us. Those are the two strands we're taking forward over the next 10 days in preparation for the Ireland game."
The Scots were in a positive frame of mind after  England game but that didn't mean they didn't know the scale of the challenge that awaits them against the unbeaten Irish in the Aviva Stadium.
"We've certainly got to be positive and that comes across when we say we are a good team," he said. "But at the same time the challenges that face you have to be recognised.
"There's no point in building a bubble of positivity that ignores the reality of the challenges. If you understand the level of challenge you are facing particularly away from home in the 6N then you can really begin to put together a plan that says, yeah, this is a steep hill that we have to climb but it's a hill we have a plan to be able to summit.
"Then you build mentally for that, saying we see the challenge but we believe we can do the job. But we have to do these things in order."
The Scots enjoyed the aftermath of their victory against England, but even with an extra week's gap there's been no resting on laurels.
Yesterday a limited squad did conditioning and speed work at Oriam, and a session with the Scotland Under-20s team, themselves enjoying the aftermath of a victory over their English counterparts.
"It was obviously a fantastic victory, the lads played really well, and you've got to enjoy the win, but it's very quickly on to preparation for the next game," said McFarland.
"The 6 Nations is relentless like that – there's just no let-up.
"We consider ourselves to be a good team, but you have to play to that level every week, it doesn't really matter who the opposition is.
"It just so happens that the opposition coming up are Ireland in Dublin, and that is a formidable task. They've demonstrated over the last number of years how strong they are at home, their record is phenomenal, and they provide a brilliant challenge for us."