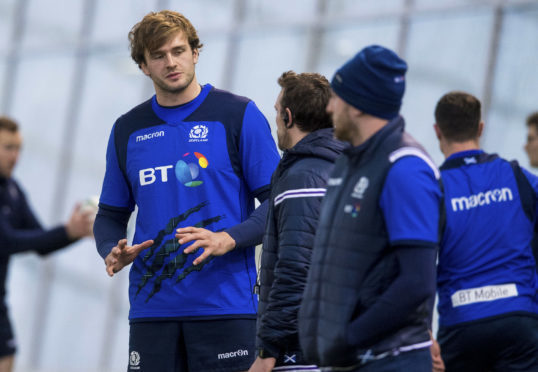 Scotland may decide to change the team that won the Calcutta Cup game by the biggest margin in three decades because "certain players" could make a difference against Ireland, says assistant coach Mike Blair.
Regathering at Oriam for the build-up to the fourth 2018 NatWest 6 Nations game in the Aviva Stadium on Saturday, Gregor Townsend called up 10 players as the injury crisis that has plagued the Scots in the early part of the season finally started to abate.
Chief among the returnees are proven front-line players like Richie Gray, Alex Dunbar, Fraser Brown and Zander Fagerson. Daryl Marfo, a surprise success in the autumn, and John Hardie, having served a three-month disciplinary suspension, are also recalled along with Byron McGuigan, who missed the last two tests with a hamstring injury, back-rower Magnus Bradbury and the uncapped George Horne.
But the suggestion that even experienced players of the likes of the elder Gray – who played all 80 minutes of his comeback game for Toulouse at the weekend – wouldn't edge out Calcutta Cup heroes and the Scots wouldn't mess with their success wasn't entirely endorsed by Blair.
"You will have tactics for certain opponents, certain players will fit that," said Blair. "It might be that you end up playing the same team.
"But, if there are ways we feel we can manipulate Ireland with different personnel, we would do that, we wouldn't just keep the same team because they've won.
"The game has moved on a bit. You can target certain teams with certain players."
The return of experienced hands provided options, he continued, but it would make for "an interesting selection meeting", he added.
"There is an element of cohesion, picking guys who have played together for a while and have won together," he continued.
"But also you look at guys who have that special impact, the ability to change a game. Everything is weighed up."
The coaches had all watched Richie Gray's return at the weekend, and also Greig Laidlaw's continuing strong form for Clermont-Auvergne as his club beat champions La Rochelle 21-17.
"We've seen all the footage, Richie did really well to come through his whole game without issues," said Blair. "Greig continues to play well.
"I don't know if it's the right term but he's got a great voice to him, people listen when he speaks. He's got a calm authority about him, and that is a big plus point for us.
"We've also seen that Ali Price can do a great job off the bench for us, as well and it's brilliant that the two players, although they're different in age terms, are going to learn a lot from each other.
"Ali can see see how Greig talks to players, gets the best out them, which is great for him at this stage in his career, but Greig sees the speed that Ali is able to get in the game, the instinctive nature of his game, and that's great for him."
Ireland in Dublin would be "at least as tough as facing England," added Blair.
"Ireland play a very dominant brand of rugby," he went on. "They've been very successful with it and will be firm favourites for the game.
'England as the second best team in the world, that was a big challenge, but this week is something a bit different.
"One key thing about Ireland is their relentless phase play, their ability to get into your 22 and suffocate you. They will stay there until they take points away.
"Ireland did that well against Wales. Whenever they got into that gold zone, that finish zone, they were coming up with points.
'So that's going to be a big focus for us, preventing that from happening."
Scotland have beaten Ireland twice at Murrayfield in recent seasons but key man Jonny Sexton was missing in both those games, and the Lions stand-off has only lost to Scotland in his first game against them, at Croke Park in 2010.
"You can't focus too much on one player, but Sexton and (Conor) Murray are really influential. Nines and tens generally are.
"Whenever we play against any opposition, we look at ways of looking at specific players. With Sexton being a key player for them, it will be important to shut him down."
Blair added he was pleased to see Hardie's return after his "time off" for disciplinary reasons, having played a few strong games for Edinburgh in the last month.
"John's a fantastic player, he has a good pedigree and a good history playing with Scotland.
"When you have player like that available it would be silly not to have him on board.
"He's had his time off. He's been helped through that and now he can focus on his rugby."