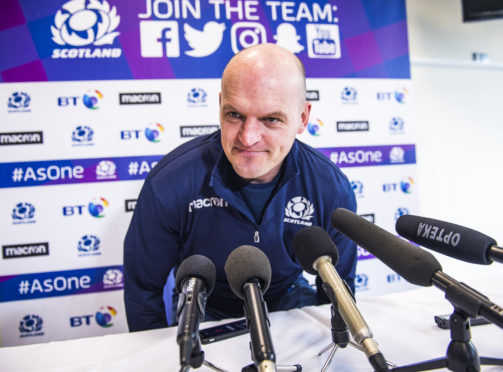 Gregor Townsend says Scotland's away form is a concern but not the complete focus heading into the first of six games in a row away from BT Murrayfield – and arguably the toughest of them all in Dublin.
Outside the World Cup and the pre-tournament preparations the Scots have rarely if ever played six away games on the bounce, but with two to end this NatWest 6 Nations, three on the summer tour of the Americas and the extra Autumn Test in Cardiff, that's what faces them now.
So if there's ever a time to solve this nagging difficulty, it's surely now.
"We're all aware we've got a poor record in the Six Nations away from home, but some of these players have done very well away from home for Scotland," pointed out Townsend.
"In recent times we won in Australia twice, and the players have done very well away from home with their clubs.
"Most of the players have done very well in games in Ireland;  John Barclay won a semi-final and a final (in the PRO14) with his club last year at the Aviva.
"It's getting back to knowing what mind set, what preparation, is required to win away from home."
Discussions have been regular after the Cardiff defeat; as a player group, within the quad's leadership group, and one-on-one meetings "with everybody in the squad" to talk about away games.
Chris Paterson said his mindset was always to treat every pitch as the same, and most players do talk of being able to shut out the crowd. However Mossy's away record was exactly stellar with  Scotland, and Townsend thinks you have embrace the atmosphere.
"People will say it's the same pitch, it's the same team (you beat at home), but the stats show you in this tournament it's tougher to win away from home.
"We've had one blip, one experience where we didn't get it right: we've now got a second opportunity to make sure we make the most of it."
Ireland's power and impact at the contact area, as well as their controlling half-backs Conor Murray and Jonny Sexton, make them a much different proposition to England.
"There are similarities in defence with both Andy Farrell and Paul Gustard coming from the Saracens background but then there are different things they do.
"(Ireland head coach) Joe Schmidt puts a lot of emphasis on line-out plays, on challenging areas where they believe a weakness is in defence. That might be first phase, second phase, third phase, with some intricate plays. So we've got to be really alive to that.
'And they're very, very good in the contact areas, supporting the ball carrier or competing for the ball when they're defending."
Scotland's momentum after the England win cab;lt be discounted, but Ireland have their own, Townsend pointed out.
"Momentum is a great thing," he said. "You build together. You get confidence together. There is a lot of cohesion because the team is largely the same over those two games.
"We felt that going through November, too. The different thing this time, the more difficult thing and the bigger challenge, is we go away from home, against a team who are unbeaten as well.
"Ireland have only lost one from their last 20-something at home. So we know this is a huge challenge."