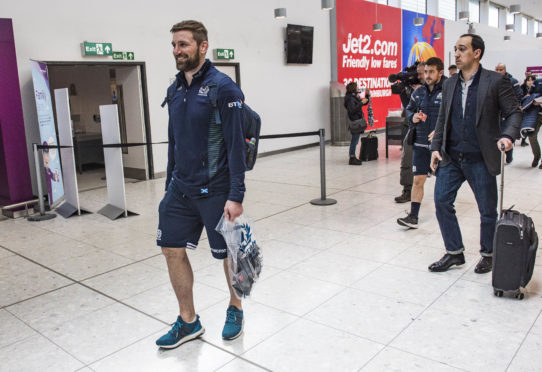 The last survivor from Scotland's last victory on Irish soil is also the captain as the Scots attempt to silence the constant queries about their away from in Dublin this afternoon.
Scotland last won in Dublin in 2010, the final game of Ireland's tenure at historic Croke Park when John Barclay was part of a Andy Robinson's team that won at last in their final game of the season, upsetting the Irish going for a Triple Crown on St Patrick's Day weekend.
It's all slightly familiar for today as the Irish begin to target a Grand Slam three-fifths of the way complete, but Barclay hears no talk of that from today's opponents just as the Scots aren't even considering their own (very outside) chances of a first Six Nations title.
"I have not heard an Irish player talk about (a Grand Slam)," said Barclay. "I would be surprised if they did come out and talk about. It is one of those things you do not talk about.
"If you are in a position in week five to talk about that hats off to you. There are always going to be whisperings of that as they are the only unbeaten team in the championship and we are going into week four. But it does not lend itself to be ammunition for us.
"100 per cent we haven't talked about the title. Even if we did win this weekend, I haven't even looked at the maths. I
"We know how hard this weekend will be. We will let the Irish worry about Grand Slams and we will think about this game."
To win the Scots must end this perception that they're a poor away team, and no matter how often they point to last summer's win in Sydney over Australia – something Ireland haven't done since 1979 – they're pigeonholed as "homers" by luminaries such as Brian O'Driscoll.
"I don't think it is unfair of him to say that, our record suggests it, although we had a good win in Australia last summer," conceded Barclay. "But of course you need to win (regularly) away from home.
"We do get asked about this a lot. But it's not something we talk about or prepare differently.
"I am sure we are not the team to find winning away difficult because the record of wins home and away for most teams is pretty stark in the Six Nations. There obviously is a thing about home advantage.
"Ultimately it is 15 guys going up against one another on a piece of grass. Whoever is more accurate and plays better wins."
Barclay thinks that the England game, as much as it was a triumph for him personally, has limited relevance other than building the confidence in the squad.
"I believe in momentum in the 80 minutes of a game," he said. "Every game is different, there are different challenges.
"Ireland are better at contact (than England). They are always very physical, very accurate. On top of that, they've probably looked at last week's game, so we will need to be sharp in terms of what we managed against England.
"Joe Schmidt is one of the best operators around. He will analyse the England game as we will analyse them in a bid to look for patterns they can pick up from, and strengths and weaknesses. Hopefully there will be issues that we have addressed."
For the Scots, sticking to the plan after the setback in Wales was the key.
"The start of the tournament was far from ideal and we knew the criticism we would get, but I said the very next day that we hadn't become bad team overnight," he continued.
"It was good that we beat France, even though it probably wasn't the best game of rugby. Then obviously the England game was fantastic.
"We have stayed true to how we played the game. We haven't changed it.
"The guys are buzzing, they know how exciting it is, they know the opportunity we have.
"But we're also realistic about it and know how hard a challenge beating Ireland in Ireland is."