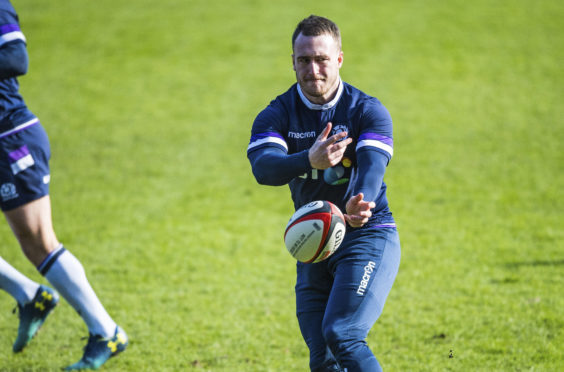 National stereotypes be damned, this afternoon's clash of contrasting styles at the Aviva Stadium might be an indication of where the game of rugby union is headed.
Ireland, against tradition, are the bludgeoning Goliath against Scotland's adventurous David in today's opener of the fourth round of games in the 2018 NatWest 6 Nations. It's pragmatism against the dreamers, Ireland's attritional game of brute force against Scotland's up tempo self-proclaimed "fastest game on the planet".
This narrative has annoyed Ireland head coach Joe Schmidt, who seems to be a lot more easily riled these days than the cool, level-headed almost schoolmasterly demeanour he projected in his early years in charge of the Boys in Green.
Schmidt pointed out this week that his team weren't just a blunt instrument, pounding the ball up the middle, box-kicking ad nauseum and occasionally trying a wraparound play from Jonny Sexton. Why, statistically they have the most off-loads in the championship so far.
Yes, an off-load from a lock to a prop is still an off-load. But no-one's pretending that the Irish are about pretty – or even sexy – rugby, even if Gary Ringrose's inclusion makes them a little more likely the spread the ball beyond Bundee Aki.
They're like the Springboks for much of the last 20 years (although not so much recently); you know what's coming, straight at you, it's just a question of whether you can stop them or not.
And you can't argue with results, even if the outside of the Emerald Isle some are snottily holding their nose. Ireland are on a run of 10 wins in a row, and have won 11 of their last 13 at the Aviva Stadium, only New Zealand beating them in that run.
The narrative for today also has Scotland playing at pace, rapier thrusts, looped passes that have the crowd and team-mates alike with hearts in their mouths, Hoggy and Huw and Finn slicing holes. Even after the setback in Cardiff, Gregor Townsend has held true to his philosophy that this is how modern rugby should be played, and it was good enough to put down one big bludgeoning outfit in England two weeks ago.
But Ireland in Dublin is a far bigger big challenge, as Schmidt has his team – squad really, as they seem to interchange personnel with no loss of power – honed into a ruthless machine.
"Ireland are ruthlessly efficient and they're very good at their game plan," said Scotland defence coach Matt Taylor. "The squeeze you and they hold the ball for long periods of time, they play a good territory game. I think they're exceptional with how they play their game, how they put teams under pressure."
Even if you repel the power game, he continued, Ireland will put pressure on with their peerless kicking game, underpinned by their half-backs.
"Even if you're in their faces, you make good tackles and spread the field, you've also got to have good back-field coverage because they kick very well," continued Taylor.
"(Conor) Murray and (Jonny) Sexton are their two best players and exceptional at reading the cues and playing a kicking game, so they can squeeze you in that way."
Ireland may have some variety in most parts of the field, but in the 22, you know exactly what's coming from them, agreed Taylor.
"For a number of phases they're going to pound you with their forwards, then release with their backs – maybe after three or four phases," he added.
"You need to meet that collision head on and you've got to create a bit of chaos. If you just sit back and let them roll through the phases, they're very good at holding on to it for as long as they need to."
Pressure on the half-backs will be key, but despite some in the Irish media refloating the idea that the Scots might illegally target Murray, Taylor's having none of it.
"Their 9 and 10 are the two best players on their team and for us to be successful we have to put them under pressure. That means trying for charge downs and we'll do it within the laws, as we've always done.
"They tried to make something of it when I was involved at Glasgow but we didn't have a penalty against us for it and we were never cited."
Scotland are actually happy that the ref is Wayne Barnes, who they think will want a contest at the breakdown.
"We're really excited to have Wayne because we had him when we played Australia in Sydney," added Taylor. "Our game is best when there is a contest (at the breakdown). Ireland have some good guys in this area too."
The Scots are quietly confident, Taylor adding that he thought this was a game that "was coming at the right time for us".
"We didn't start well against Wales, we were pretty good against France, then played very well against England," he said. "We feel that Ireland are probably one of the best teams in the competition and so it's a good time for us to play them, to see where we're at.
"We think we've prepared well, our mindset is right and our workrate will be good.
"That's been part of why we've done so well, that we work so hard for each other, and you saw that in the last 20 minutes against England, we grew and grew. That's a big part of how we play now, we want keep it up tempo, keep fighting and put teams' fitness under pressure in the last minute."