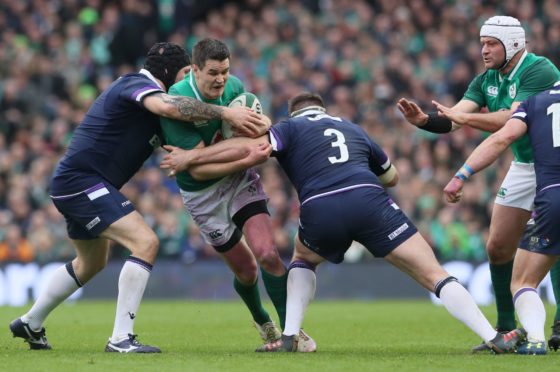 Scotland's performance in defeat against new 6 Nations champions Ireland "will be good enough to beat the best in the world" with better finishing, claimed head coach Gregor Townsend.
Townsend was in bullish mode after the 28-8 defeat in Dublin, the Scots' 16th away loss in succession in the 6 Nations outside Rome – their destination for the final game of this year's championship next week – dismissing the idea that the result was another addition to the Scots' poor performances away from BT Murrayfield.
He described the Aviva Stadium performance as "night and day" compared to the loss in Cardiff in the opening game of this championship, and that the twenty point loss was evidence of the team's progress rather than another step back from the Calcutta Cup victory two weeks ago.
"The scoreboard doesn't really (reflect the game)," he said. "Whether it's 20 pts or one point that doesn't matter to us, we lost the game, that's what we're upset about.
"What matters to us is that the performance and effort. That performance was miles ahead of the one in Cardiff."
Townsend pinpointed three glaring missed opportunities for tries which "would have made that game much closer."
"That could be 21 points and with Ireland scoring off an intercept could be a different game. It wasn't and that's down to us.
"It might sound daft because we lost four tries to one but that mentality, the way we defended, the detail in our game apart from the finishing is what we need to do to win away from home.
"We caused a very good side a lot of problems today and we asked a lot of our players. From the performance today we delivered most of what we wanted from an away performance."
The head coach admitted that the Italians would have always had next Saturday earmarked as their best chance of a win.
"That's going to be a tough game," he continued. "They've probably had a red circle on March 17 for a while, that home game against Scotland.
"We're just looking for progress, we've improved in aspects and we're a really tough team to play against. If that leads to wins even better, but we've got to make sure that progress continues next week."
In contrast to Saturday's opponents Scotland were three years behind, but he didn't think it would take that long to bridge the gap – Scotland play Ireland in their pool in next year's World Cup in Japan.
"I didn't mean we'll take three years to catch them up, I hope we can do it much quicker than that," he added. "This (Irish) team has a lot of experience together, a lot of players in their late 20s having come through together, winning championships, being in last game deciders.
"It's just been relatively recent that we've won three games in the championship, and beating England for the first time in 10 years.
"The more games we're involved in that are close, or we win, we'll get that confidence and take us to a place where we'll contend more regularly, and beat teams like that."
Scotland showed plenty signs of the brutal physical nature of Saturday's game in the aftermath, although only Ryan Wilson's head knock after 18 minutes resulted in a player leaving the field of play involuntarily ahead of next week's trip to Rome.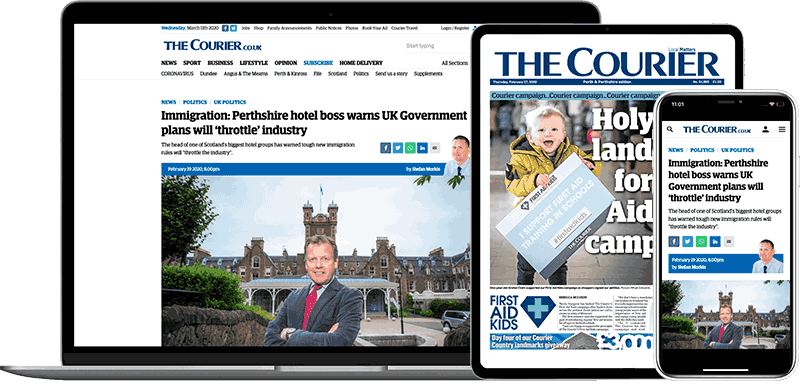 Help support quality local journalism … become a digital subscriber to The Courier
For as little as £5.99 a month you can access all of our content, including Premium articles.
Subscribe