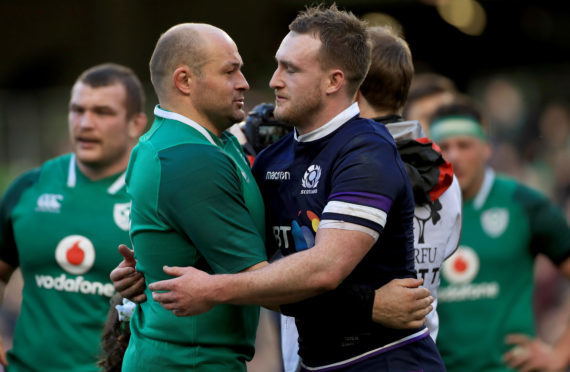 Seeking solace for another defeat away in the Six Nations, most Scots leaving the Aviva Stadium with their shoulders slumped in disappointment pointed to the video board illustrating the scoreline and grimaced.
The 28-8 figures didn't reflect the way the game had been played, thought many, including some of the Scotland's players and certainly head coach Gregor Townsend. This was a competitive game so much more than Scotland's last two chastening away trips in the 6 Nations in London and Cardiff.
Yes, Scotland probably should have been closer to Ireland than 20 points. They should have scored two more tries – the third butchered scoring chance was on a penalty advantage and Blair Kinghorn subsequently scored when play was called back – while Ireland's first try was (another) gift wrapped interception.
Add and remove the points from those should-have-beens and you have Scotland winning 22-21. Of course, that's much more like it.
But this is wishful thinking of the most deluded sort. Yes, Scotland's finishing on Saturday in Dublin was their worst since the team actually started scoring tries again, after Vern Cotter's first season. The truth is Scotland, for lack of composure from some of their most sure-handed players, for playing to Ireland's strengths for much of the second half, got precisely what they deserved. The scoreboard rarely lies in rugby, and it didn't on this day.
It was a thorough lesson in ruthlessness and efficiency. Ironic that Jacques Brunel, the French coach, later that day preached mimicking Scotland's "relentless efficiency" as the key to his team's win over England. He really should take a closer look at Ireland.
Not that they were faultless. Indeed Scotland withstood a fearsome opening onslaught, forced plenty of errors and should have come out of the first 40 minutes with at least a narrow advantage. Peter Horne's ambitious miss-pass intercepted by Jacob Stockdale – an attempt to expose the wing which ended up leaving him untouchably running 40 metres behind the posts – was a blow, not least because the Scots had survived the first quarter onslaught and Ireland were looking a little devoid of ideas of how to score points.
But immediately after that, the Scots had a glorious opportunity when Huw Jones chipped and chased behind the defence and suddenly had a glaring two-on-one with Stuart Hogg on Rob Kearney.
The Irish full-back did a decent job in an apparently hopeless situation of getting in the way and Jones delivered a dreadful pass when Hogg was set to stroll under the posts.
In hindsight, that was probably the last chance, and as brutal as that may sound for an incident in the 23rd minute of the match, that's the currency when you play Ireland at the Aviva Stadium. Scotland butchered a few more chances but the Irish had recognised their early escape and knuckled down.
They made one backs move of much note in the game – it led to Stockdale's second try just before the break – and just relied on their relentless power and ability to retain possession.
Scotland's defence held reasonably well, but was inevitably pressured into penalties, Ireland worked their driving lineout mauls – the speciality of the house at the Aviva – and in the end were coasting the last 15 minutes, the bonus point try secure, the championship beckoning.
The real difference between the sides is this assuredness. this composure and faith of the Irish that the game plan will work, however long it takes.
Scotland don't have that yet and may never do given their adventurous philosophy. There was a feeling that those key passes – from Jones, from Hogg, from Horne, three of the best ball-handlers Scotland have had in years – were forced not because of direct Irish pressure on the ball but the indirect and relentless pressure of the hosts' playing style, making each scoring chance so precious the Scots felt they needed to do something more than just relax and let their undoubted skills do the work.
Ireland are the best team the championship, no question, even if they don't win at Twickenham and secure the Grand Slam next week.
Whether they stay this way remains to be seen – everyone thought England were invincible three weeks ago – but they seem to have all bases covered, although to be absolutely sure it might not be a bad idea to encase Conor Murray and Jonny Sexton in bubble-wrap for the next 18 months.
For Scotland, this was different to Cardiff and Twickenham. It wasn't a capitulation, it was a good deal less chastening, if equally annoying.
The most troubling thing about Dublin – given that it'll take years to build a pack to compete on equal terms with Ireland – was that lack of composure. It was a problem around the World Cup three years ago – and the real reason the infamous quarter-final was lost – and it was definitely an issue at Twickenham almost exactly a year ago.
Hopefully, it's ironed out with experience – Scotland are a team with plenty scope for more seasoning, as Townsend identified when comparing his side to the Irish after the game.
But it's more lessons to be learned on how to win away from BT Murrayfield. There's five more games in a row now before the Scots return to their "fortress" home. You'd hope they get this nagging issue sorted out in that time.