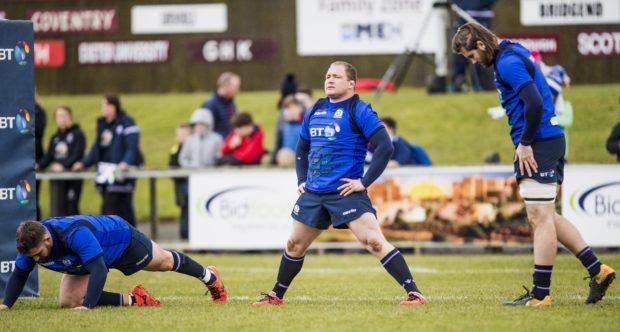 WP Nel is only looking for a concerted run of games again after a tough two years that had him questioning his future.
After the 6 Nations of 2016 it seemed Nel was a probable Lion, a destructive scrummager who was part of a Scotland front row that won six penalties against Italy in Rome.
However a serious neck injury, and then a comeback stalled by a broken arm just a few minutes into his international return against Samoa last November had the tight head pondering whether the fates were conspiring against him.
"It certainly felt like something was going on having played 10 years without injuries and just a couple of clean-up (operations)," he admitted.
"But it's rugby, you can't really choose when you want to get injured, it's just what happened, it's life and it's what you make of it.
"Are you going to come back just to be back or are you going to come back stronger and challenge for that three jersey?"
The neck injury was the big one, particularly for a tight-head who bears such pressure on that part of his anatomy.
"It's a front-row neck injury, so there were a lot of things running through my mind, I wondered if I would ever come back as good as I had been.
"It's been a tough two years. It's mentally made me stronger, I've worked harder and I feel I'm in a better place than I was two years back, so there's positives and there were some negatives, but it's just looking ahead now and putting all the injuries behind me and look at the job moving forward."
Nel's reappearance this weekend is probably insurance against Italy's scrummage, even if both Zander Fagerson and Simon Berghan in his absence have held up the business end of the Scottish scrum with some aplomb.
"The boys really stepped up and it's great because it makes competition so much better," he said. "Competition brings the best out of you because you know you have to perform because there's another guy behind you who wants to take your spot.
"It's particularly nice to see Simon coming through, he's been awesome."
As for the Italians, they've bveen inconsistent but the Scots will have to be on their mettle, added Nel.
"At times they play awesome rugby and at times they are found lacking, so we must be at our best this weekend if we want to win," he said.
"I don't think we look at the Italy game as one where we have the potential to slip up, it's one where we want to put out on the field whatever we need to do to win, so we're mainly focusing on ourselves."