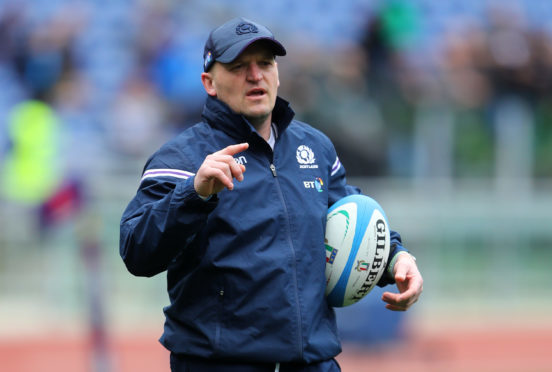 Gregor Townsend is only "slightly satisfied" with his first 6 Nations campaign in charge of Scotland and feels the squad have far more to give going forward.
Winning three games in the championship to match the record last year of his predecessor Vern Cotter was the bottom line, and the Scots did that although in strained circumstances with a too-close-to-call win against Italy in Rome.
Townsend believes his side only matched their autumn series form for an hour in the Calcutta Cup victory over England, and pointed out the defeat to Wales, the missed chances against Ireland and the first half in Rome on Saturday.
"There will always be things to improve," he said. "The England win was a great performance and a great win because of what it meant for the country, but having watched it a few times I know we could have been better – and that was probably our best display.
"We demand a lot of our players. We know they can deliver and it is about doing that over 80 minutes and also away from home against different opposition. That's the challenge we have."
Townsend added that the quality of the 6 Nations now was far better than in the past and that three wins in the championship was "a big achievement".
"But we're not pleased with how we played against Wales and with not taking chances against Ireland or our first half today.
"Nothing's ever perfect and we understand there will be times when we don't play as well and still find a way to win. That's what we did today."
Townsend added that his emotions during a game tended to be "anger or excitement" but he was impressed how calm the team were at 12 points down going into the final quarter having been dominated by Italy.
"It was mostly anger today," he said. "We seemed to be a little off the pace and weren't accurate in attack and that gave Italy chances to run at us and they were very good.
"But we saw a reaction in the second half. There was a togetherness and the communication I heard from Mike (Blair), who passes messages to the players, was excellent.  There was calmness.
"When we had chances, whether off lineout drives or moving the ball we looked better. We looked like we would get penalties and line breaks and we scored a couple of crucial tries."
Townsend also paid tribute to the bench, with Jamie Bhatti, Stuart McInally, Zander Fagerson, Richie Gray and David Denton all bringing much-needed energy against a flagging Italian team.
"The nature of the game we play does tire out opposition packs," added the coach. "We've seen that in every game this season and today was another example. We had more energy and were playing more in the last quarter."
Townsend will make decisions on who tours in the summer to Canada, the USA and Argentina on what happens for the rest of the season.
"Most of our players are going to be playing big games, both Glasgow and Edinburgh look like getting play-off places in the PRO14 and Edinburgh are in a European quarter-final," he continued.
"We will look on the tour as a way to keep improving, but also to introduce new players to the rugby we aspire to play, players who could have a chance of making the World Cup squad in a year's time.
"We are conscious we had two or three guys on the Lions tour, so it would be a long season for them. Some players might need some medical care at the end of the season, or surgery, so they can have a full season afterwards.
"But we are also conscious of the momentum we want to carry on. We want to make sure we have a strong squad to take on Canada, the USA and, particularly, Argentina in the third game.
"It will be a balance. Not everyone out there today will go on tour."
But he's enjoying the environment of the coaching his country's national team, especially with the kind of support that jammed the streets of Rome on Saturday, when an estimated 5000 marched from the Piazza del Popolo to the Stadio Olimpico in support of Doddie Weir's campaign to raise funds for MND research.
"Our bus stopped at the traffic lights and we were right in the middle of it," he said. "It's things like that, I've loved this job.
"There was summer experience playing in Singapore, Fiji and Sydney, the atmosphere at Murrayfield in our home games and then that today. It's a brilliant environment to be in."