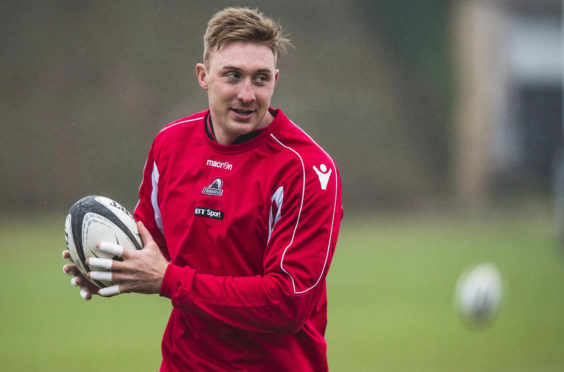 Dougie Fife wouldn't swap a cold Saturday night in Edinburgh in April for the sunshine of the Gold Coast as an indication of how he's restarted his career.
The wing could have been forgiven for being wistful tomorrow morning when the Scotland 7s squad he was part of for two seasons go in search of a Commonwealth Games medal. But Fife was reclaimed by Richard Cockerill for Edinburgh and he's grabbed the chance to re-establish himself in 15s.
"It's still a tough question, but I'm back with Edinburgh now," he said, preparing for the meeting with Scarlets at Murraytfield that could book Edinburgh's unexpected PRO14 play-off place.
"It would have been awesome to be part of the Commonwealth Games but that's where I am, I'm enjoying being back here. We're lucky to be in a good position to do something special this year.
"Even when guys pulled out injured after Hong Kong, I knew I wasn't going (to rejoin the 7s). I was told a while ago that was not my focus anymore."
He'll be watching avidly however as the Scots play their pool games in the Games tomorrow, with the crunch game against South Africa looking like the one that will decide whether the Scots can get a medal.
"That would obviously be the big game, you've got to top that pool which is a bit different compared with the World Series where the top two go through (to the quarter-finals)," he said.
"They've had that week together at Hong Kong, and I think it's good that they did that and not just taken a team to the Gold Coast.
"At the start of the year the talk was all that with the World Series, the Commonwealth Games and the World Cup it was a massive year for 7s.
"We had a few Commonwealth Games open days with all the other athletes. It's something different, something special being in that multi-sport environment, so it will be brilliant for the boys who are involved and fingers crossed they do well."
For Fife, 7s was the springboard back to a pro contract after he was shipped out of Edcinburgh under the previous coaching regime.
"I wasn't getting game time, and to take a chance to do that for a year I couldn't turn it down, but Edinburgh wasn't an option at the time," he said.
"But when I was there it was nothing to do with development, we were there to win tournaments. We've saw that when we got to the end of the season at the big tournaments like the London tournament when we had a performance group, the older guys were there to win.
"But you do see younger guys coming through, which has been brilliant. Guys are on the edge of potential being 15s players if they want it, but I know they love their sevens."
Back at Edinburgh, Fife and his team mates are determined not to let the second chance to book a play-off place go by after last week's loss to Ulster.
"We let ourselves down at the weekend where we were all really gutted about that, but luckily we've put ourselves in a position where we've got another shot to push Scarlets for second place and hopefully get away from Ulster in third," he added.
"They're obviously one of the form teams in Europe, in the semi-final of the Champions Cup, and you saw in the Six Nations, pretty much 90 per cent of their back line was gone, a lot of their forwards were gone but they've kept that form.
"Any squad they bring up I'm sure they'll be pretty talented and could cause problems if we don't turn up."