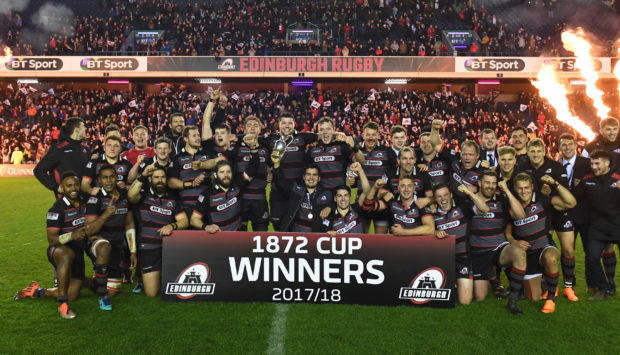 Richard Cockerill maybe won't like the analogy – Dave Rennie certainly won't – but there is something of the Tortoise and the Hare about the Scottish pro teams as this 2017-18 season draws to a conclusion.
The Warriors under Rennie raced out of the blocks in this Guinness PRO14 season, nine successive wins, a play-off spot booked with seven rounds to go, a home semi-final with three left. They gathered bonus points with ease and scored tries from unlikely, unreasonable places.
Edinburgh in contrast made steady if unspectacular progress, and even had an almighty blip when losing a two-try lead at home to Treviso in September, which seemed to stall the fledgling Cockerill era and had everyone rolling their eyes and thinking "same old Edinburgh".
Instead, the crafty former Leicester coach has brought his team along on the blindside. They passed Glasgow on Saturday night at BT Murrayfield, winning the 1872 Cup finale 24-19 and completely deservedly, plainly the better side over the three legs.
They probably won't pass the Warriors in the final reckoning of the play-offs. Munster at Thomond Park on Saturday, the Irish team having everything to play for, looks as unwinnable a task as there is the PRO14 and a feat to render all Cockerill and his team's achievements this season into shadow.
Glasgow already are a week ahead in the standings, but no-one now seems very confident that their unbeaten home record in the league  this season will survive a semi-final in three weeks against Scarlets – assuming they beat the Cheetahs next weekend – and few would favour them in a final in Dublin against Leinster or Munster.
After victory on Saturday, Cockerill was still insisting Glasgow were the better team than his, and even suggested that the Warriors might not have had enough motivation for the contest. It was an interesting comment, because much of his side's motivation had evaporated 15 minutes before kick-off.
The coach had learned Ulster had three of the four tries they needed against a Munster 2nd XV at half-time when he gave his pre-match talk, and told his team to assume their play-off rivals would get the five-point bonus point they needed.
Instead, by the time of the final huddle after the warm-up, they learned that Ulster hadn't scored again in the second half, and that the 24-24 draw at Thomond Park had Edinburgh in the play-offs and qualified for next season's European Rugby Champions' Cup.
"Okay, we're through, that doesn't mean this doesn't matter," Cockerill told them. "Let's have some pride in what we're doing and show what we can do."
Edinburgh didn't back off, even when Glasgow sliced through them for a peach of a try by Callum Gibbins, a blur of quick feet and hands from Finn Russell, Nick Grigg and George Horne that cut a swathe right down the middle of the Murrayfield pitch.
At 14-7 the Warriors seemed to be in the mood for a statement, refuted the idea they had stopped for a proverbial nap under the tree, and that the "natural order" was about to restored.
Instead Edinburgh successfully attacked the soft underbelly of this Warriors team, exposed during the European campaign; that they struggle to cope with a direct and physical forward game. Edinburgh had to be patient, and all of their three tries came when they seemed to lose control of possession only to regather it, Jamie Ritchie twice being the man to rescue the ball and set up scoring chances.
The third try was the killer though, Sam Hidalgo-Clyne – who seems unable to agree on terms to keep him at Murrayfield – spotting Lee Jones creeping up and delivering a perfect kick behind the Scotland wing for Duhan van der Merwe to continue his scoring run.
Edinburgh added just three points in the second half but trusted in their defence and setpiece, although Sio Halunukonuka's run and Adam Hastings' break showed just how much they were hanging on at the end. But the reward for their resurgent season was much deserved, as Cockerill said.
"The credit is all to the players, because they've worked bloody hard," he said. "We've made history, the club have never done this before, and we're at the top table.
"But we've still got a long way to go. We'll be huge underdogs at Thomond, not many sides go there and win.
"But we're going to test ourselves and whatever happens it'll be a great experience and a huge learning curve for us. We've got good enough players to go there and make them sweat, because if they don't get it right, we can beat them."
At least Glasgow showed a little of what had brought them to the play-offs so quickly on Saturday, but with four losses in their last six league games the season seems to be petering out for them, unless they can reset somehow on the training pitch in the three weeks between now and the semi-final.
Jonny Gray and Tommy Seymour will probably be back for that, and Finn Russell had his best game for a month on Saturday. But Stuart Hogg looks out of sorts, and the pack just don't seem meaty enough to cope with the three top contenders left in the play-offs, Leinster, Munster and Scarlets.