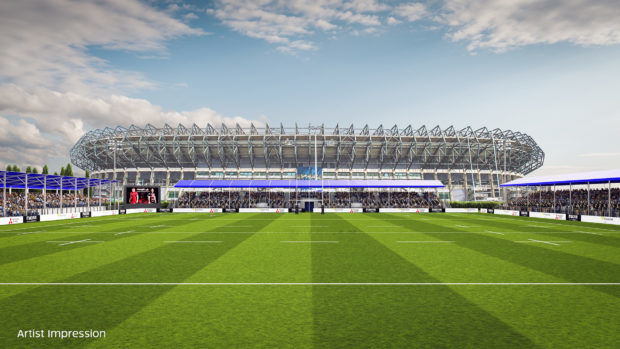 Edinburgh will undergo an identity change to match their transformation on the pitch and plan to play in a new purpose built "Mini-Murrayfield" stadium on the national stadium's back pitches from the 2019-20 onwards.
Scottish Rugby intend to build a 7800 "flexible infrastructure" stadium with a 3G all-weather pitch on the training pitches behind the West Stand within the BT Murrayfield grounds. Should Edinburgh City Council grant planning permission, construction will start in October to be complete for the start of the 2019-20 season.
Meanwhile Edinburgh – who went from ninth in the PRO14 to the play-offs under Richard Cockerill this season – will change colours from red and black back to the traditional Edinburgh District colour of navy blue, matched with what's described as "burnt orange".
The club badge has also been overhauled to a simpler design based on the city crest, with the formation date of the Edinburgh District of 1872 designed to create a link to the club's forbears in the amateur game.
However the change of most interest to fans will be the decision at long last to stay at BT Murrayfield as a home venue but in a wholly new facility, which the club hope will be a permanent base for them at last.
The club has been nomadic since it came into being in 1995, starting at Hibernian's Easter Road, moving to George Watson's College's Myreside ground, Meadowbank Stadium, the national pitch at Murrayfield and briefly back at Myreside over the last two seasons before that plan was abandoned.
The new stadium will have cover on all four sides and seats for up to 7800, but it's envisaged many facilities within the main stadium will be used on matchdays.
As well as being Edinburgh's home ground, it's anticipated that the new stadium – likely to be touted for sponsorship naming rights by Scottish Rugby – will also act as a base for other rugby activities, such as women's and age group internationals, as well as to "other sports".
The stadium will feature an all-weather 3G pitch, replacing the facility already in use on the back pitches. Training pitches will still be accommodated within the Murrayfield "campus" but the national team has now decamped to the Oriam National Performance Centre at Heriot-Watt University as a training base and the need for the pitches at Murrayfield – no longer used for international match day parking as they were for many years – has diminished.
Dominic McKay, Scottish Rugby's Chief Operating Officer, added that other elements had fallen into place to allow them to consider the possibility of a "Mini-Murrayfield" to complement the main arena.
"We are fortunate to have space within the BT Murrayfield campus to comfortably accommodate this planned new facility and retain practice pitches for all elements of rugby," he said.
"It's an opportunity that's more open to us now because of the flood defences which ring the stadium, and we're financially in a completely different place than where we've been in previous years.
"We've grown our revenues from £33 million in 2011 to £55 million this year. We've got the ambition, the confidence in Edinburgh and the space here which lends itself to investing further."
Edinburgh will continue to play on the international pitch next season with the hope that the necessary consents and construction phase will go smoothly for an opening of their new ground in September 2019.
And they'll play in colours with a new badge and image that unashamedly tries to connect the professional club with the century of history of the Edinburgh District team.
Head coach Richard Cockerill, who recently signed a contract extension after a hugely successful first season at the club, has been agitating for a stronger club identity.
"Hopefully this is the start of what this club is going to be about – not only on the field, but off it as well," he said. "We have to build an identity that everyone can buy into – whether that's supporters, how we play with the players we bring in, and how we train and behave.
"We've chosen a colour that's traditional, that goes back to the heritage of the team, and I'm sure our supporters can identify with that, young and old. This is what Edinburgh looks like as a rugby team and hopefully that translates into what happens on the field."
"In addition with this new stadium project our players, staff and fans could have a home that we can begin to build something from. It will give us a focal point, excellent facilities and a chance to move the club forward."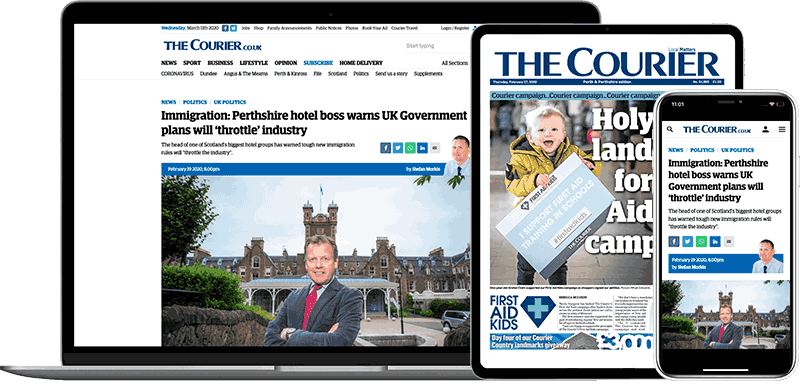 Help support quality local journalism … become a digital subscriber to The Courier
For as little as £5.99 a month you can access all of our content, including Premium articles.
Subscribe