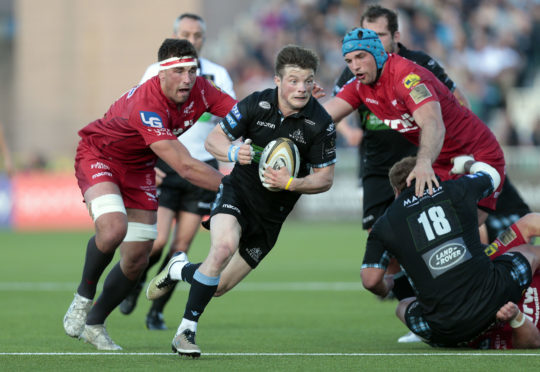 The Guinness PRO14 begins the 2018-19 season in bullish mood, confident enough even to project itself as the most successful club competition in European rugby.
A lot of that is just new media bluster – particularly with a new broadcasting deal to promote – and drawn from last year's European Cup semi-finals, when Munster, Scarlets and Leinster competed, only Racing 92 breaking the PRO14's dominance.
It was a marked contrast from the start of last season, when the multi-national league looked a poor relation of the English Premiership and French Top 14, and was confusingly courting cross-Atlantic competition before admitting two unwanted South African Super Rugby franchises at just a few weeks' notice while splitting into conferences.
Against the odds, the whole thing worked out. The Cheetahs and the Southern Kings produced a little colour to the cold European winter, and the Bloemfontein team even made the play-offs. The conference system seemed to be understood by all, and Leinster emerged from a compelling season as deserved double winners.
Edinburgh's season-long renaissance under Richard Cockerill, and Glasgow's initial juggernaut under Dave Rennie, did much to help raise the general profile of the league. The new season has Scottish professional rugby at undeniably its strongest point – collectively at least – since 1995. The acid test that awaits is to see if they keep moving forward.
EDINBURGH
Cockerill's job in turning Edinburgh from a bottom-three team into one which probably should have beaten Munster at Limerick in the play-offs was exactly what Scottish Rugby recruited him for. The underachieving capital club, which seemed at times to be a mere distraction between internationals for their best players, developed a real winning culture.
The real success was that, save for a couple of reclamation projects and mid-season recruits, Cockerill did it with the squad he inherited. Scottish Rugby's financial attention was concentrated on backing the other new coaching recruit along the M8, and the combative former England hooker had to nag his bosses to get slim pickings to fill the gaps.
His fortune, prop forwards apart, was to have a fairly injury-free season by modern rugby standards, and that a number of promising players blossomed. He certainly had a major part in their development, however, and his input to one of two established names – not least Stuart McInally, now surely Scotland captain for much of this season – added to the general transformation.
Now Cockerill's got his reward for last year's effort from Murrayfield with more resources, bringing John Barclay back from Scarlets – although he'll not be available until 2019 – fellow Scottish international back rower Luke Hamilton from Leicester and signing Simon Hickey at half-back and Matt Scott to beef up his backline.
It's much more his squad, and the expectations are much higher. Cockerill has been tactfully playing down the development and how much harder it will be this season – probably true – while deflecting attention to Glasgow Warriors as still the senior of the two Scottish outfits.
That certainly wasn't true for all of the 2018 section of last season, when Edinburgh were clearly the better team. Should that momentum be continued and further injuries avoided, you'd expect Edinburgh's more resilient and powerful pack to be a better weapon in both Europe and in the PRO14, and they also have some depth to shrug off absences during the international windows.
Ulster have to still be regrouping a little under a new regime led by the former Scotland forwards coach Dan McFarland. Scarlets have lost a couple of key men in Tadhg Beirne and Barclay. While Leinster look as strong as ever and Benetton are improving, there's certainly a window for Edinburgh's strengthened squad to claim a play-off berth again.
GLASGOW
Dave Rennie's honeymoon ended abruptly in last year's dispiriting semi-final against Scarlets when the Warriors, defending a 100 per cent home league record, meekly capitulated. The New Zealander's team had been treading water for much of the spring after winning their first 10 league games.
The Warriors' weakness had however been exposed in December, when Leinster mashed their under-sized pack in a European tie at Scotstoun. It was the template used by all against the Warriors for the rest of the season, and for all their pace across the paddock they were not able to adjust.
Going into his second season, Rennie has been unable – probably not unwilling – to add fresh ballast to his forward pack; he got his enhanced budget from Murrayfield last year and it's Edinburgh's turn.
He'll be hoping for an injury-free run for Oli Kebble and Brian Alainu'uese, two forwards who were unable to contribute much, but could bring some of the muscle that was lacking last year. But the pre-season bullying they got at Northampton last week does not augur well.
If the game's played at pace, especially on their plastic pitch at Scotstoun, the Warriors can even dominate if they control territory, and they have as good a strike force as any in the entire league. They'll need a better campaign from Huw Jones, Stuart Hogg, Tommy Seymour and Alex Dunbar, all world class finishers who last year were either injured, distracted by Scotland duties or both.
Half-back is the most interesting area for the Warriors, however, with Finn Russell and Henry Pyrgos gone and the possibility the Rennie will gamble on the youthful and exuberant partnership of George Horne and Adam Hastings as his first choice playmakers.
A return to form for Ali Price, the recruitment of Nick Frisby and the reliability of Peter Horne give some experience and assurance, but Rennie should be encouraged to give the youngsters enough rope as they need.
Hastings has got plenty of confidence and daring, while the younger Horne's pace and support lines caused havoc among opposition defences whenever the Warriors made a line break last year, and he can be as effective again.
The Warriors should still have plenty to get to the play-offs, maybe even to secure a home semi-final again. But it's hard to see them getting to the Celtic Park final or making inroads in Europe with what is effectively last year's pack.