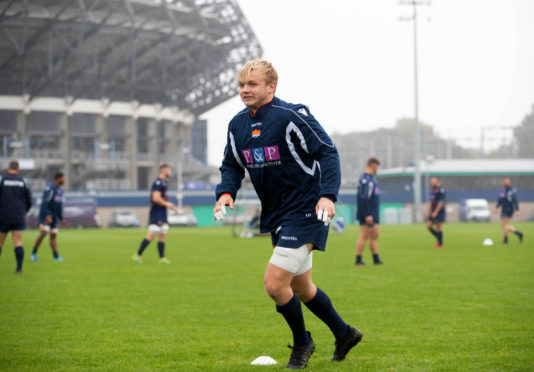 Not content with his gruelling pre-season preparation for his first season at Edinburgh, Luke Hamilton thought he'd go the extra yard – actually an extra 5000 yards, half of them straight up.
The week directly after pre-season camp he undertook the National Three Peaks Challenge – climbing Ben Nevis, Scafell Pike and Snowdon, the three biggest peaks in Scotland, England and Wales, all in the space of 24 hours.
"It wasn't the brightest thing I've ever done," said the back rower who made his Scotland debut last season  and moved up to Edinburgh from Leicester during the close season. "Pre-season camp and then straight away climb three mountains in 24 hours, but I'd made a promise."
The promise was to his long-time friend Brad Jenkins, whose stepfather had died after a prolonged battle with cancer. To raise cash for the cancer ward at Withybush General Hospital in his home town of Haverfordwest in Pembrokeshirre, Luke, Brad and Brad's mum undertook the climbs, covering it in 23 hours and 50 minutes.
"We raised £4000 with only eight weeks' notice so that was quite good," he said. "We started with Ben Nevis, four and half hours in a thunderstorm and torrential rain, and I had started in T-shirt and shorts because it had looked quite a nice day.
"Then a six hour drive to Scafell, going up as the sun set and then coming back down in the dark, which was weird, then the drive to Snowdon, and managed to get up it in the two hours we had left."
The Snowdon Railway doesn't start until 10 am, however, so Luke had to trudge back down on foot again, had one day off, and then it was back into Murrayfield.
"I came in pretending to smile and show no pain," he joked. "Actually it was all good, veryh enjoyable. The views were great apart from Ben Nevis which had almost complete cloud cover, so I wouldn't mind doing it again."
Hamilton's fitness isn't in doubt with selection for both pre-season and the Guinness PRO14 season opener against Ospreys last week, which he feels was an opportunity missed.
"It was great to be out there with the boys, but obviously we were bitterly disappointed with the result, especially at the end when we came so close," he said.
"By no means was that our best performance. We made a lot of errors, but to come so close at the end, the last play of the game when we could have won it, we were disappointed in ourselves.
"We let ourselves down a bit. We know that we are and should be a lot better than that. Sadly, we didn't deliver on Friday, which cost us the result."
Ulster in Belfast is next, a ground Luke visited during his time with the Cardiff Blues six years ago.
"The Kingspan is a great ground and there is always good support for them," he continued. "They are a very good team, and obviously Dan (McFarland) is out there now as well so they will be a well-drilled side.
"You know what to expect with an Irish team. They will try to hold you up in contact and be big and physical and direct. But they've also got that ability to play and stretch you out wide.
"Dan is a great technical coach who leaves no stone unturned. From the forwards point of view, we know they will be very technical and very detailed so we've got to front up.
"We need a reaction this Friday after last week. It's a tough start to the season for us with two away games, and it probably doesn't get much bigger than going away to Ulster on a Friday night needing a result."