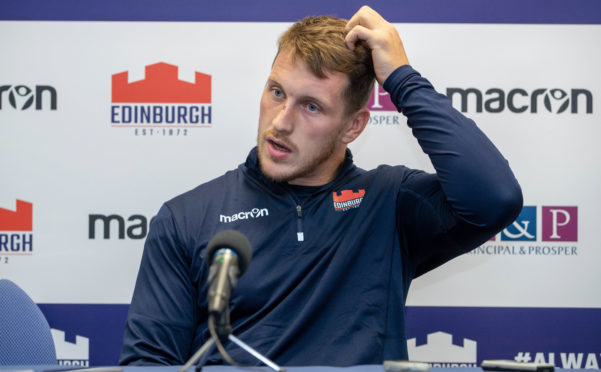 Edinburgh's Mark Bennett is likely to be confirmed out until the New Year with the suspected hamstring rupture he suffered during the capital's club narrow loss at Ulster on Friday.
Head coach Richard Cockerill expects the Scotland centre to be diagnosed with a scan today and him to be out "for three to four months". Bennett missed almost all of 2017 with a knee injury suffered in the Calcutta Cup game that year and was only playing his 14th game for the club at the Kingspan Stadium.
"It's something quite significant, he is on crutches, and if it's what we suspect, then it is a veryh serious injury," said Cockerill.
"If it is what we think it is, it will be months. It is one of those things, thankfully nothing to do with his knees that have been a problem before. He got bent into a position past his flexibility in a clearout, nothing wrong with it, it was just purely bad luck."
Edinburgh have cover in James Johnstone, Chris Dean and Juan Pablo Socino for the position, so Cockerill is more concerned with Edinburgh adapting to the new-found respect they have been given by the opposition ahead of Friday's first home game against Connacht at BT Murrayfield.
"You've seen that in the opposition, Ospreys, full bore with their selection, Ulster full bore with their selection," he pointed out.
"Before Edinburgh was an easy target. But people will now put their best team out knowing that if they don't, they run the risk of getting turned over.
"We wanted respect, we've got it, now we have to deal with making sure we play better so that we deal with the consequences of teams taking us more seriously."
Last season Edinburgh won six of seven games when they and the opposition were separated by less than a converted try, and they've lost two such games already, he pointed out.
"You have to take the rough with the smooth and that's justg how it is," he continued. "The "plucky losers" bit I don't like and being the victim I don't like. I think the ref got his decision wrong at the end of the game (when he awarded Ulster a last-gasp penalty) but in the end we got what we deserved because ou have to control the key moments and we didn't.
"Ulster have had two penalties at the end of games to win and they've ridden their luck. We can't rely on official's decision in the 82nd minute going out way. We don't want to rely on luck, we have to make sure we do things better so we don't have to depend on a 50-50 decision going in our favour."
Despite the two defeats, Cockerill is happy with the progress of the team.
"Nothing's fixed in 14 or 15 months but I still think we're a better side now than this time last year and we're a better side now than the one that finished the season," he said.
"We've got to still keep a measured view on the expectations of where we're at. We've been to two tough places, we've got two bonus points, which is better than nothing.
"I would have been happier for us to win at the weekend, because I actually think we did enough whereas I don't think we deserved to win at Ospreys, even though we had the opportunity."
He doesn't believe that Connacht is a must-win  game this early in the season.
"The three points we left behind in Ulster could be huge at the end of the season, but the table will look after itself," he said. ". I'm not going to put pressure on the team saying this week's a must-win, because I don't think it is.
"What I want is to get the same performance out the team that we got on Friday. If we do that we'll win."