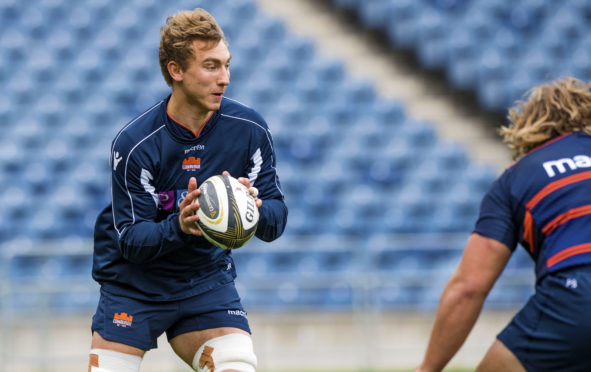 Jamie Ritchie has soaked up knowledge and advice from Hamish Watson since he debuted for Edinburgh at just 18, but the Dundee-born flanker is giving the master some tips.
Watson and his partner took delivery of a baby girl at the weekend, and that's maybe the only area of rugby or life that the 22-year-old Ritchie has more knowledge of than his Scotland international team-mate.
"I think it's the first time he's asked me for advice instead of the other way around," laughed Ritchie, who has two children. "Seriously, he's going to be a great father and I don't really know how much advice I can offer."
Growing up has come quickly to Ritchie, whose son Oscar was born the same day he made his debut for Edinburgh aged just 18 at Leinster, and has now reached 50 appearances for the club just four years later
"This is my fifth season with the club and it certainly doesn't feel like 50 games," he admitted.  "They have all flown by. It is great getting such a milestone now hopefully i can look forward to the next 50.
"I am honoured and thankful to Edinburgh for giving me a chance to play at such a young age. Hopefully i can do enough to keep playing."
But the former Strathallan School pupil believes he's grounded more than most.
"Yeah, I certainly don't go out as much as the other guys," he admitted. "My family has run along with me playing more for Edinburgh and hopefully i have matured more on the pitch as well as off the field at the same time."
Daughter Ava arrived in January which makes for "a busy household", he admitted.
"It is a great thing to have someone happy always to see me when i go home," he said. "No matter how rubbish or hard a day you have had it is lovely to go home and get a cuddle off them.
"As for playing, hopefully I have got a bit bigger, maybe I have improved since playing at school but that could be down to having better people around me, I guess."
The team has certainly improved in the 14 months under Richard Cockerill, but they want to continue to build, he added.
"We build up a reputation last season about being a team that was hard to beat," he said. "We have a hard edge around us which we probably lacked in the past.
"Since Cockers have arrived we have built up a reputation and gained some respect. Now we have to deal with that. The club is in a really good place and we are happy to be pushing on and it is a big year for us."
Two defeats to start the year put the pressure on with Connacht in the home opener tomorrow, but there's no panic in the Edinburgh ranks.
"Has our luck changed? I don't know about that," he said. "Swansea is a hard place to go. Ravenhill is an extremely hard place to go, they have lost two games there in the last two years.
"We should have won on Friday night. Even although we didn't we have only got ourselves to blame for that.
"I don't think you can read too much into it. It is the start of the season. We have a long way to go before we can start making judgements.
"If we perform to our potential we should win this game. That is the kind of onus Cockers put on us. To put our best game out there every week and if that is enough then it will be enough."