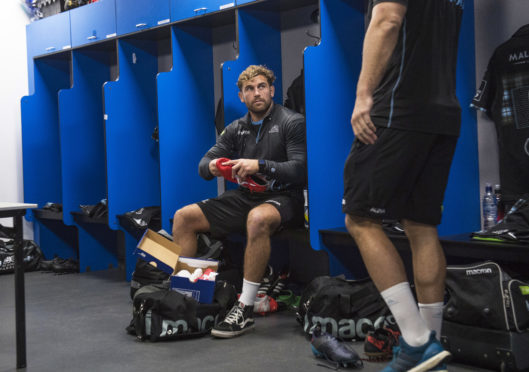 A year ago, pegged out and gasping for air in the in-goal area at the Toyota Stadium in Bloemfontein, Callum Gibbins confirmed his arrival in the affections of Glasgow Warriors fans.
His lung-busting support chase of team-mate Ruaridh Jackson's interception was rewarded with him sauntering over the line for a key try and collapsing flat out, his chest burning at altitude, but showcased his immense workrate and willingness to put himself on the line for the team.
"I have a friend who keeps sending me the photo of me pegged out over the try-line," he says. "I was pretty tired, it was already a long passage of play (before the intercept) and then the run, but it was a good feeling to score."
That was one of just two losses the Cheetahs  suffered in their home ground, and the Warriors return there this week with good memories of a year ago.
"The conditions are tough at altitude but I don't mind it too much," said Gibbins. "I played here last year with the Warriors, and in Johannesburg and Pretoria with Hurricanes.
"You get a week to train, you get good rest and the trainers have a protocol that sort of acclimatises you to the altitude. Plus it's nice to play in this sort of weather. I think it helps us to play an expansive game."
In addition, the squad getting away "on tour" – the Warriors stay in South Africa to play the Southern Kings in Port Elizabeth next week – helps bond them, he believes.
"Two weeks away with 30 guys is quite good," he said. "You get days off when you can do a few activities and get away from rugby in a different area.
"When you're at the hotel you're spending a lot of time around each other so you get good clarity on how you want to play the game. You become tighter as a group. It's a little bit different but I think it's really good for a team to experience something like this over two weeks."
Gibbins feels that Glasgow's pack have made a statement in the first two games of the season, answering some of their critics that they couldn't cope with a physical game.
"We tend not to think too much outside the group and personally, I'm not too worried what people say about our forward pack," he said.
"When you do the analysis of your own game you work out where you've gone wrong, and we took it upon ourselves to work out what we could do better.
"We've been working hard in that area. We needed to last Friday because Munster are a big side and a big force in this competition.
"Last year, we probably didn't get it too right at times and we struggled a little bit. It starts up front with the forwards and things tend to work out from there.
"We set high standards for ourselves. We're working out how to become better in different areas and maybe our set piece is one of those."
Dominating Munster on Friday was a good step, but the scrum, lineout and maul have all been hugely improved in the opening to the Guinness PRO14 season.
"We were pretty happy with how we played against Munster,  but there are still areas we've looked at where we could be better.
"We want to grow our game and take that through to the Cheetahs. They have a different style to Munster but we are focusing on ourselves to grow as a team."