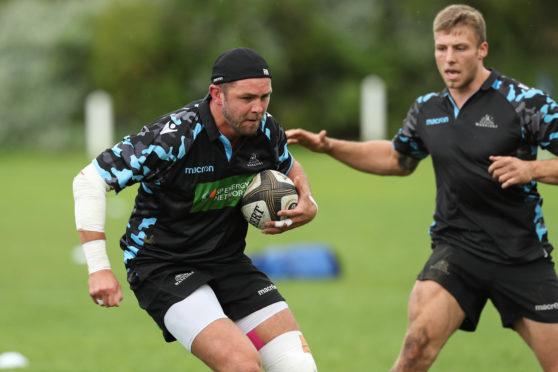 Only focusing on rugby – even this early in the season – would drive the Glasgow Warriors crazy, according to co-captain Ryan Wilson, which is why the South African two-week tour is such a blast.
With 50 points and a bonus point win banked – both away games so far in the Guinness PRO14 have produced the full five – from the opening game against the Cheetahs, the Warriors have moved down to Cape Town for training and a little R&R before heading on to meet the Southern Kings in Port Elizabeth.
The Warriors spent a week in Johannesburg before moving to Bloemfontein and the choice of the cosmopolitan and bustling city on the southern coast before the second game was no accident.
"Cape Town is a brilliant city to be in," said Wilson. "We flew down straight after the Cheetahs game. Dave (Rennie) is pretty familiar with the city from his days in Super Rugby with the Chiefs and he had said what a beautiful place it was.
"Obviously Oli Kebble and Huw Jones lived here during their time with the Stormers and know a good bit about the city. We felt it was important to go somewhere we could enjoy."
There's still work to be done, obviously, but creating a tour-like atmosphere helps with team bonding, continued Wilson.
"We got away for a pit in pre-season, but this two-week trip to South Africa is definitely something we can use. We're already a pretty close group but getting away together is beneficial.
"Because the coaches are all here you can overdo it with meetings and things like that, but we think we've found a good balance."
Team dinners and outings on days off have helped with bonding, but there's serious work to be done.
"Our minds are focused on rugby when we are on the field, but off it we have a big emphasis on bonding as a squad," he continued. "Cape Town is definitely a pretty cool place to do that.
"At home, when you finish training, you go off with family or friends or with the boys outside of rugby and it's important to replicate that when you're away. You can't just solely focus on rugby for two weeks because it would drive you crazy."
The team has had strong training sessions at facilities in two schools in Jo'burg and Cape Town, and they'll move down to Port Elizabeth on Friday with Wilson, who missed the Cheetahs game with a sickness big, ready to play.
"I could have made it for Saturday but there was no real need to push it," he said. "We have been training hard before enjoying the downtime.
"We want to make sure we get to work and do our jobs because we've got Kings, and it will be a tough game.
"They gave Ulster a bit of a fright and it was a pretty close game. They did very well there. We'll take nothing for granted."