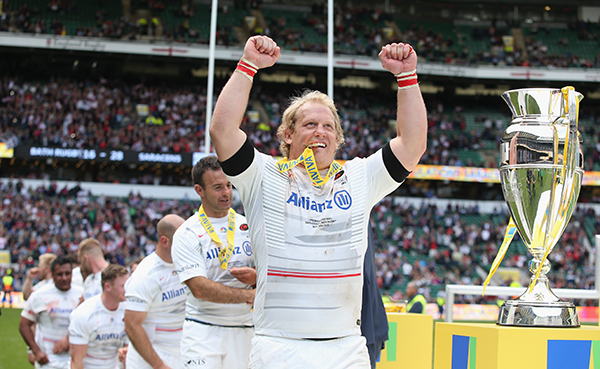 Petrus du Plessis got a glowing review of Glasgow from former Warrior and ex-Saracens team-mate Kelly Brown before he opted to come north and help solve the tight-head crisis before Sunday's Heineken Champions' Cup opener.
The 37-year-old, a stalwart of Saracens' successes in recent years, is set to line up against them at Scotstoun after agreeing terms to join from London Irish until the end of the season. The hugely experienced South African is cover for injuries to Zander Fagerson and Siua Halanukonuka and has played in 31 champions' cup ties, including both of Saracens' winning finals.
With tight-heads at a premium everywhere at the moment, Glasgow moved swiftly to tie up du Plessis, who was getting interest from a number of Premiership clubs, and he goes straight into the squad for Sunday.
"It happened really, really quickly," said the prop, who played exactly 100 times for Saracens in an eight-year stop at the Allianz Stadium. "Thursday evening I got a call from Dave Rennie and he was wanting to talk to me about where I am at the moment and what nick I was in, how much I have been playing and what I have been doing.
"I played every Premiership game last season at Irish and they were looking for me to mentor some of the youngsters, but a chance to play Champions' Cup again was not to be missed.
"It only took two days in the end. I arrived here last night, was made to feel very welcome and we had a good intense session this morning."Du Plessis had sought out his old team mate Brown to ask about Glasgow when he knew of the Warriors' interest.
"I went up to a Sarries A team game because Kelly is now their coach," he said.  "There was a chance to go to other clubs maybe on loan, because there's a massive tighthead crisis in the Premiership as well.
"But I sat down with Kelly and said this could happen, talk to me about it. He had nothing but admiration for Glasgow.
"He spoke really highly of them, and said it'd be great just as long as I could get my head around the weather. He gave me a lot of insight, and it was all true when I got here. I'm thankful for that."
Du Plessis doesn't exactly have insider info on Saracens, but he knows how they tick from the inside.
"What better game to go into for the Warriors than my old club?" he continued. "We know Saracens will stretch you and test you in every phase of the game, whether it is scrums, line out, mauls, kicking game, defence, attack.
"You know exactly what they are going to do and you know exactly how to stop it, but you have to do it by being more physical, more urgent than them and do things better than them on the day."
With two winners' medals, he knows what it takes to win a Champions' Cup, and he thinks Glasgow have it.
"From what I've seen this morning, I can tell already that this club is beyond professional. It's where it should be," he continued.
"There's no real recipe for who can end on top when it comes to the European Cup. However, I would say that culture plays a massive role, and the culture that Glasgow have at the minute, the boys are tight.
"They get on really well, they look after each other off the pitch and on the pitch, and that's a good starting point.  That's where I think Glasgow is doing things right."
With two key tight heads down injured, Dave Rennie knew the Warriors were "only one more knock from being under massive pressure."
"So Petrus coming in gives us a lot of experience," he continued. "We know that's going to be important against a side like Saracens who have the ability to take care of the set piece and pin you in the corners. We were fortunate to get someone of his quality.
"The key for us is we need someone who can potentially give us an edge, especially at scrum time. Outside of that, he's an explosive athlete, he's a good man, and he's slotted in quickly."