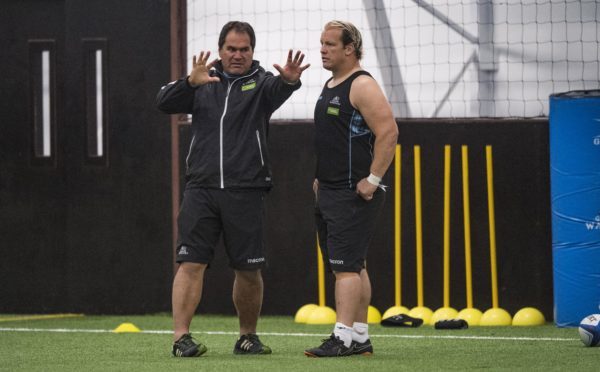 Dave Rennie has taken his Glasgow Warriors to the seaside and Largs to build for the formidable challenge of Saracens, but it's not been a week of ice cream at Nardinis and boat trips to Cumbrae.
After being somewhat caught cold in last year's foray into the Heineken Champions' Cup, Rennie thinks creating a camp mentality is what's needed ahead of the visit of the English champions to Scotstoun on Sunday.
"We wanted to do something different, because this competition is special, and it was a chance to spend a little more time together," said the head coach from the club's base at Inverclyde Sports Centre.
"It's quite unique, you've got three different competitions running and then everything stops for Europe. And what we know is in our competition you can operate at less than 100 per cent and still get a job done but you can't do that in Europe.
"The idea is to reflect on all the hard work we've done, where we've got to, and the little shifts we still need to make in a game and why that's going to be important this weekend. "Culturally we will spend a bit of time together and make sure that we enjoy the build-up to Saracens and obviously put a quality performance on the park."
Heavy gym sessions and intense training have been part of the camp, but it's a chance to specialise on certain aspects they'll need for Saracens, he added.
"We're not actually going to train any more than we would normally train but it's a chance to focus in with a smaller group for a couple of days and then our full squad will be here for the latter end of the week," he said.
"It's just a chance to spend a bit more time together and re-focus, and reflect on what's going to be important heading into this other competition. We gathered on Monday night, got our review out of the way and that allowed us to get up early and get a few things going."
The last time the Warriors were in this sort of camp was in Cape Town ahead of the sobering loss to the Southern Kings, a result that isn't going to go away any time soon, admitted Rennie.
"I don't think it will ever go away, and it's something to refer back to," he said. "Clearly it was a pretty disappointing performance and those that came off the bench were fantastic that day but we were so far behind that we made it difficult for ourselves.
"Little hiccups like that are sometimes not a bad thing, you get them early in the year it's a good reminder. Certainly there's no worry about complacency heading into a game against a team like Saracens that's for sure."
The Warriors are far better equipped to take on the likes of Saracens than they were a year ago when they were outmuscled by Exeter and Leinster in their opening two pool games, believes Rennie.
"Saracens are a quality side, there's not too many weaknesses," he continued. "But we've made some good shifts in our game we think. Our set piece has been really strong bar last weekend and that was probably not a bad thing – we need to fine-tune that.
"Looking after the ball will be massive. Not only do Saracens defend very well they've got big men who carry hard and we are going to have to meet that challenge and that's exciting.
"But we've worked really hard and we think we've made some shifts in our game against good sides. Against Munster, probably the biggest name team we've played so far, our preparation was excellent and the line speed was great and that's what you need in big games. We are going to have to replicate that."