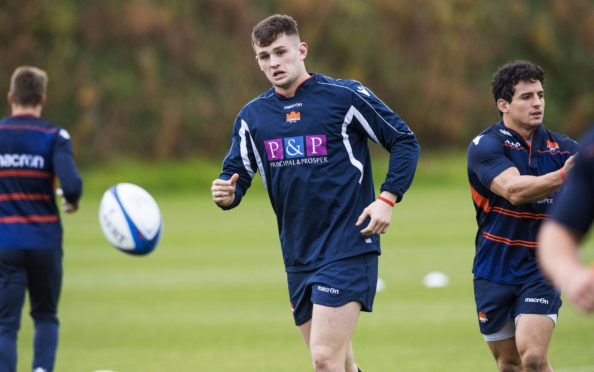 Montpellier's physical challenge is the benchmark Edinburgh want to match as the club makes a return to the top European competition after a four year gap, says Scotland back rower Magnus Bradbury.
Only Grant Gilchrist, Dougie Fife, Tom Brown, Ross Ford and WP Nel survive from Edinburgh's last game in the Champions' Cup, a pool defeat at Munster in January 2014, and it's going to be a learning curve for Richard Cockerill's young side at Stade Altrad in the south of France.
But Bradbury is keen to lock horns physically with the big pack full of international power assembled by the man who gave him his first Scotland caps, Vern Cotter.
"They do present a real physical challenge but we can be a physical team when we want to be," said Bradbury. "It is about fronting up for 80 minutes rather than having a ten minute lapse in concentration that lets other teams back into the game.
"It's what we did against Cheetahs last week, we switched off the physical side of our game. We should not be letting teams back into it like that, we should be pressing them harder and scoring more points."
Cockerill believes Montpellier should have been French champions – "they had one bad game and that was the final" – and that Edinburgh are clear underdogs, but Bradbury thinks his team are capable of a shock victory.
"We know how they can punish us if we switch off, bu it is down to us playing our game out there for 80 minutes and see where that takes us," he said.
"We still have room to grow. Attacking it one game at a time and individually taking our own game out onto the field is what it's all about. It doesn't matter what other people say, it is about how we prepare and how we perform.
"We are a good rugby team. We have shown that in the past. I believe if we get it right we can beat them on Saturday."
It's a vision  the team has had even before Cockerill arrived, he said.
"We always knew where we wanted to go, Cockers has just given us a better way to get there," he said. "The Champions Cup is where we want to be, but having got here the next step is to beat these teams and take another step forward.
"You look at our squad, there is a wealth of experience in every competition, apart from this one. So, it is about drawing on that experience and seeing where it can take the rest of the team in this event.
"It's as big a competition was we'll play outside of test rugby. It would be an achievement to beat them on Saturday. It will be a great occasion, it is a difficult place to go, but it is an exciting proposition. I'm really looking forward to it."