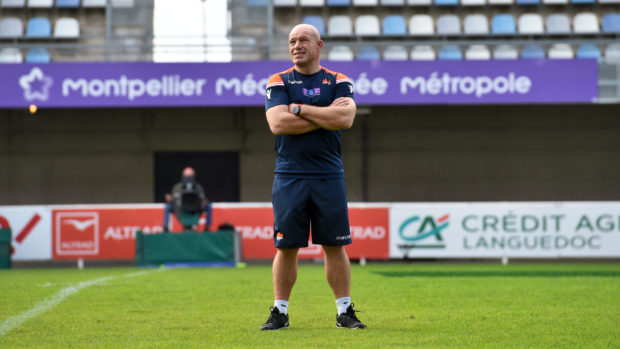 Coaching the "rock stars" of Toulon was a breeze – as long as they were on the right wavelength, says Edinburgh head coach Richard Cockerill.
The Englishman is now in charge of the proverbial rhythm section rather than the bandleaders at the French giants he worked with for eight weeks before taking up his post at BT Murrayfield 15 months ago – a very different kind of job, he says, to the team who come to Edinburgh for the second weekend of the Heineken Champions' Cup.
"When you're coaching a backline with players like Giteau, Trinh-Duc, Ma'a Nonu, Bastereaud and have Vermuelen, Juan Smith and Guirado  in the pack it's about organising," he explained.
"They know how to play and will give you the brilliance. It's about having a strong character to manage those players and make sure they turn up and do what they're meant to.
"I had the last eight weeks with Toulon, we played seven games – we won six and lost the (Top 14) final. Get them organised and buying in to what you're doing, you are going to win games."
With Edinburgh, on the other hand, it's about empowering the collective, and building the confidence that they're good enough to compete with the Montpelliers and Toulons.
"We pride ourselves on the unity of our team and how we play and what we do as a collective," he said.
"Now we just played away against Montpellier and they were good, but dare I say it we really should have won that game.
"We were a bit shellshocked for 25 to 30 minutes by the physicality and what it takes to both attack and defend in this competition. Once we got that second wind and scored that first try, the players realised 'actually they are not as good as we think they are'.
"The truth is that Montpellier are very good but we are very good too. If it kills me, I am going to get rid of this Scottish trait of 'we are always going to be second best and we are going to be plucky losers' because it does my head in.
"I am an arrogant Englishman and I expect to win, that is just my nature, love it or not."
With Toulon having lost to Newcastle at home, Saturday's clash has become effectively a knockout game, but Cockerill believes the pressure is on the Frenchmen.
"They clearly have not played with particular confidence this season, what are they, two (wins) from seven?" he pointed out.
"For them to lose to Newcastle in home in Europe is pretty disastrous for them. I know Mourad (club owner Mourad Boudjellal) well enough that that is not going to be welcomed.
"He pays his money and he wants to win. He is very clear about that. I have a lot of respect for what he has done – they were a mid-table second division team when he bought the club and 10 years later they're three times European champions.
"But they have not played as they should have this year. They still have some outstanding players across the whole team. I expect them to come here and try and put down a few markers."
But after pushing Montpellier so close away from home – one mistimed combination resulted in a crossing penalty when a try was certain – Cockerill's team now knows what it means to be a Champions' Cup team.
"Before that game this group had not played at that level before, and we have now," he said.
"We know what it looks like. Even at half time on Saturday the biggest thing was to take us past that pain barrier of 'this really hurts and it is hard' to 'I don't care and will go again'.
"I expect more from us and I think we have it."