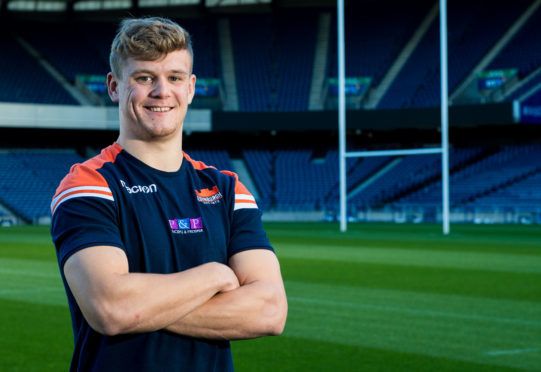 Darcy Graham's heart is his greatest attribute, taking him into the Edinburgh first XV in Europe and into the discussion for the Scotland squad.
The 21-year-old has blistering speed and great feet, but all anyone seems to want to talk about is his size, or the lack of it; just 5 feet 9 inches tall and 84 kilos (13 stone), and that's with putting on seven kg in the weight room this summer.
But every time he hears he won't be able to cope with today's huge wingers like Toulon's Julian Savea lying in wait in Saturday's Heineken Champions' Cup, it steels him to prove them all wrong.
"It always comes out, like `oh he will be too small' and 'his defence will be weak', but I just go out and try and do well. Defending wise has been the main thing I have been working on, trying to get more dominant in tackles, trying to get off the line quickly.
"It is kind of difficult, technique comes into it a lot as these big boys run flat out and it is very hard to stop them, so you have to just get there, show heart and get your body in front of them.
"I don't respect my body, I just throw myself in front of them. Heart is the most important thing."
He was "gutted" that the giant Fijian Nemani Naholo was not fit for Montpellier at the weekend.
"I wanted to prove myself," he said. "I want to prove a point that there is still room for these small boys in the game, you have to go out and play each game as it comes and just enjoy the experience."
Head coach Richard Cockerill has always praised Graham's courage and his ability, and he's getting a run in the team this season.
"Last year it was a bit stop start for me, I got one game then was out of the team for a few weeks, then was shifted off to the sevens then back for one game, then out for another few weeks.
"I tore my quad twice and started the season late, but that gave me time to get in the gym for two sessions a day for five weeks. It was brutal but I feel better for it, I'm better in contact and I haven't lost any pace.
"That is now two games in a row under my belt, both playing the full 80, and I want to keep building and show what I can do. I want to push for the national squad, that is kind of my end goal, it would be my dream to play for Scotland."
Whether he gets the call from Gregor Townsend when the national coach names the Autumn Tests squad this morning remains to be seen, but in the meantime, Graham believes that the narrow loss in Montpellier at the weekend has given Edinburgh real belief.
"That game brought a lot of belief into the squad, and really we have to believe now," he said. "Going out there we didn't know what to expect in terms of performance or scoreline, but we showed that we are bloody good.
"It was just the little details that let us down like a wee dropped ball or not clearing out a ruck quick enough and giving away turnovers.
"We were gutted, we came off the pitch knowing that we should have won that game.
There was a game there for the taking, but we are learning.
"It means we can start the Toulon game well and fire in straight away, because we believe in ourselves and that we are good enough."