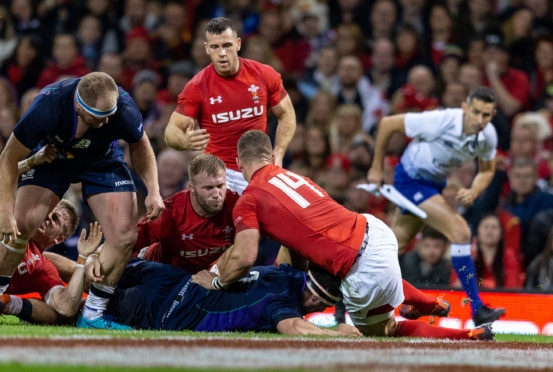 It looked pretty conclusive on the scoreboard but Saturday's inaugural Doddie Weir Cup in Cardiff was being spun as an opportunity missed by the Scotland coaching team and players.
Okay, 21-10 was certainly not anything like 34-7 as it was in February, and 50-7 that day would not have been an unrepresentative scoreline.
On Saturday Wales never got away from Scotland – indeed they had just one, admittedly incisive, attack in the entire second half – and you did have the feeling that if the Scots had scored at the any time during the second half a momentum might just have carried them to the win.
But of course they didn't score any points in the second half despite an enormous share of possession and territory, and Warren Gatland, of course, was having none of this narrative.
The Welsh head coach argued that his team's exemplary defence always had things under control. He admitted to being "slightly surprised" Scotland hadn't played wider in attack but with Gatland you never know whether such comments have underlying contempt, either a dig at opposite number Gregor Townsend's reputation as a coach who likes to attack or a subtle clue to future tactics.
At the time, possibly because this November test had absolutely none of the stomach churning tension of a Six Nations match, it felt like Scotland were bashing aimlessly at a Welsh wall of red camped on the Principality Stadium's North goal-line – where the adjoining old Arms Park spoils the symmetry of the towering stands – just as they've done for 16 years without success in Cardiff.
But there is some value in the Scots' belief that they were at least far closer than the scoreline suggests and perhaps this was a chance to break that Cardiff record.
The Welsh defence was outstanding – indeed, with Huw Jones' two missed tackles contributing to both Welsh tries, the contrast in the teams without the ball was probably the decisive factor in the game.
But Scotland got behind them twice only to be – correctly – denied both times by the TMO. Yet a more clinical application of those two chances would have produced the one try probably needed to tip the balance of momentum in Scotland's favour.
Jonny Gray's double movement as he battled for the line at the end of a broken maul was obvious on replay, and possibly the worst decision the lock has made in a Scotland shirt.
Another phase, as Townsend pointed out later, and the Scots might have scored without the need for a forensic re-examination. Instead, a position of clear pressure was lost and Wales were able to clear their lines without having to do anything much.
The second chance was less clearcut and "a good decision" as Townsend remarked. The head coach thought Pete Horne had downward pressure – control is not always necessary – but it seemed reasonably clear there was a knock on as he tried to gather his younger brother's clever chip. It was a difficult chance, but when you're playing the No 3 side in the world it's one you must take.
However, at no time did it feel like a game between two of the top five sides in World Rugby. Summer rustiness had much to do with that, but Wales offered nothing in the way of elan as they had done in February; it was back to Warrenball.
Scotland didn't exactly play badly. I'd only look at WP Nel and Gray's propensity for giving away silly penalties, Jones' one-on-one defensive lapses and perhaps a tentativeness in the first quarter borne of the nightmare they had in February.
But the back row was good, the setpiece solid, the maul excellent in attack and defence. A blistering combination of Blair Kinghorn, Tommy Seymour, Alex Dunbar and George Horne late in the game showed what the Scots were capable of in attack, but sadly the replacement scrum-half was scragged by the scrambling defence.
They didn't get the try that might have made things interesting and ultimately the scoreline looks fairly secure for Wales. But Scotland got a lot of what they wanted out of the game.
The maul, in attack and defence, looks strong. Young men like Adam Hastings, Kinghorn, George Horne and Jamie Ritchie have been blooded in a hostile arena. The failures can be put down first international of the season syndrome.
But that excuse have now gone. Scotland have to be more clinical and ruthless in the next three weeks to keep the bandwagon moving forward.
Anything less, and we won't be so keen to accept the positive spin.