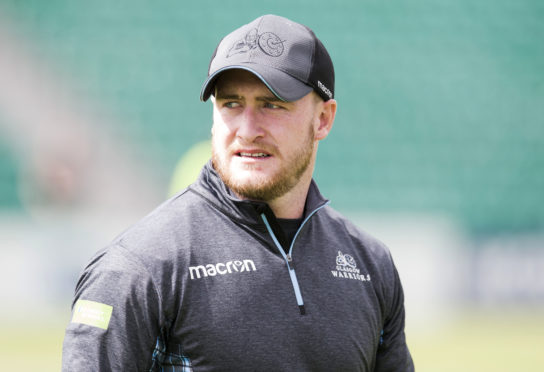 Stuart Hogg seems to be more desperate to play than the Scottish management is desperate to play him in this weekend's second Autumn test against Fiji, but they're giving the star full-back every chance.
Hogg was the shock name in six called into the Scotland squad in the wake of the defeat to Wales in Cardiff on Saturday, given that his ankle injury sustained playing against Munster in September was operated as recently as seven weeks ago and the expected recovery period was 10-12 weeks.
The double Lion was a water carrier for Glasgow in Swansea on Friday night and was out slinging passes to colleagues in the warm-up at the Principality Stadium on Saturday, so his general mobility is clearly not an issue.
However, assistant coach Danny Wilson yesterday indicated that while Hogg had made "really good progress", he still hadn't had a full contact session until the team regathered at Oriam yesterday.
"There's still a few boxes to tick, some decision to be made on that," said Wilson. " He's made really good progress, but there's a bit more to make, just to make sure he's ready. The next few days will determine that."
With Scotland have moving back their team announcement from Wednesday to Thursday, it could be reasonably inferred that they're giving Hogg an extra day to prove himself, although it would seem unduly risky to place Scotland's most prized asset straight into a fully-fledged test match after nearly two months on the sidelines.
"I don't think there's a massive concern about that," continued Wilson, a new face to the coaching team with specific responsibility for the forwards this year.
"Stuart's worked extremely hard in a short space of time and he's shown me how important it is for him to play for Scotland. In fact he's desperate to play rugby full stop, desperate to get back out on the pitch
"From our point of view as well it would be great to have him back out there, but we have to make sure we do our due diligence, he does his and we put him out there are the right time when he's fully fit.
"Hopefully the next few days will dictate when that will be."
Wilson hasn't been involved with Hogg for long, but has gained a strong impression about his general attitude.
"I think he's a very good professional as he's proved over the years," continued Wilson. "He's had his bumps and knocks as we know, but I think he wanted to play Friday night for Glasgow and he wants to play at every opportunity, that's what I'm learning from him.
"He's desperate to play at every opportunity for both his club and country and it would be great to get him out there.
"At this stage we're definitely hopeful of that but we have to wait and see how the next three days go. It's quite an important week ahead. He's not taking contact, he's just come back today, so there's a few boxes to tick yet."
Wilson added that the coaching team's assessment of Cardiff was that it was an opportunity missed "two disallowed tries and held up over the line, we convert those and it's a different game" but it's a significant change of gear to a Fiji team that, unlike Wales, want to play rugby at every opportunity.
"We know we have a side that will want to play fast, loose and have some extremely dangerous individuals," he said.
"We could list them all, as we know and that's going to take some containing, there's no doubt about that.
"Defensively we'll have to be on top of our game and tactically we've got to get that right for this type of opposition. It's a slightly different game tactically, while trying to make the improvements we need to make from last weekend.
"So you have to balance a couple of things there but it's a game we desperately want to win. It's a home game but we're also trying to make the relevant steps along the way to prepare for the bigger picture."