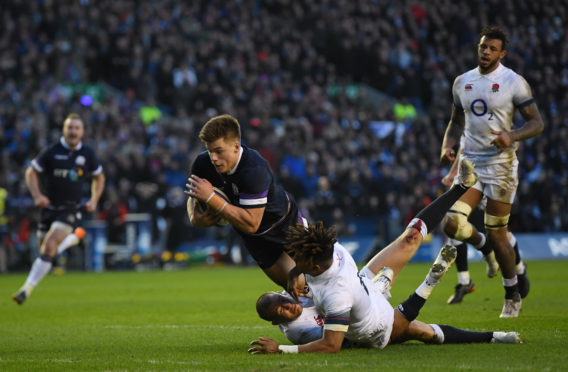 Huw Jones has had "phenomenal moments" in a Scotland shirt and will bounce back from Saturday's defensive lapses – some of which were not even entirely his fault, stressed Tommy Seymour.
The wing came out strongly in defence of Jones – who has 10 tries in just 16 starts for Scotland – as some call for the centre to be dropped from the side to play Fiji this weekend after missed tackles in the build-up to both Welsh tries at the weekend.
"We're isolating Huw more than we should to be honest," he said. "We look back at things as a squad and it's so easy for everyone else to look at it and go with (the missed tackles) because that's the easy part of it.
"There were failings in and around what happened on the weekend that had nothing to do with him and weren't his fault, and we need to correct them, to put him in less problematic positions.
"Huw's played unbelievably well for Scotland, as we all know, and he's had phenomenal moments to help us win games.
"Huw will bounce back, I have no doubt about it. He's a talented footballer and any votes of confidence or help he needs, he gets, because we're all aware of what he brings to the party. If any player isn't happy with something the rest of the squad are going to rally round him."
Seymour was a vice-captain for Scotland at the weekend, indicative of his experience status and how much he was welcomed back into the fold having been given the summer off, a decision he had initially railed against.
"You sometimes when you are a bit too close to it as you want to be putting on that jersey as often as you can," he admitted.
"When the decision was made it ultimately benefitted me, just getting to spend a bit more time with my family than I normally get in those windows after what was, to put it politely, a pretty tiring year.
"I didn't expect to be a vice-captain. I suppose as my seniority has increased within the squad I like to think i can bring a level of experience and knowledge to the squad and impart that to some of the younger guys.
"I am not the guy that will stand up and roar in front of everybody naturally but if I can fit into a role to help the younger squad members, the guys with less experience than I am happy to do that."
He's happy to do it with Darcy Graham, who arrived in the squad for the first time at the weekend.
"I could sit and say lots of nice things about him, but you can see how good he is from his performances for Edinburgh and the little snippet you got at the weekend," continued Seymour.
"He is going to be an exciting prospect. He works incredibly hard and is a nice humble kid. If I can help him in any way I will, it is up to him, but he is definitely one for the future."
As for Fiji, Seymour was with the Lions when Scotland last played them, and is excited to play them this weekend.
"I've watched every game Scotland have played against them but not had the privilege myself," he said. "I've played with Fijian players, against some and my experience with them is exactly you'd expect; they're incredible athletes.
"I played with Leone Nakarawa and still lucky enough to have Niko (Matawalu) at Glasgow. I'd like to say it's a privilege practising my tracking tackling with Niko but it's not.
"He is a very special individual and they have more than a few of those, so we'll be looking to shut them down."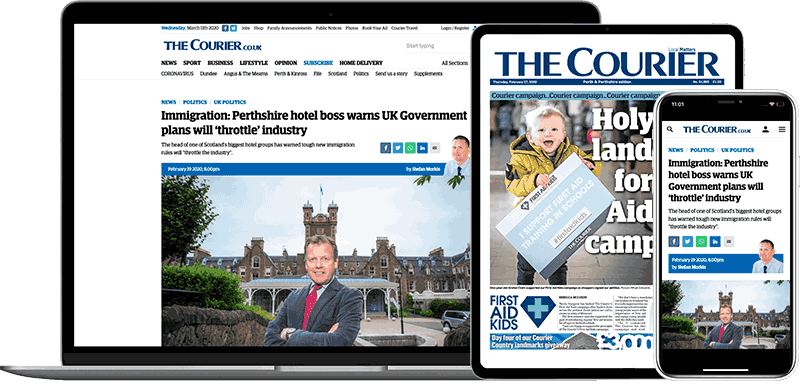 Help support quality local journalism … become a digital subscriber to The Courier
For as little as £5.99 a month you can access all of our content, including Premium articles.
Subscribe