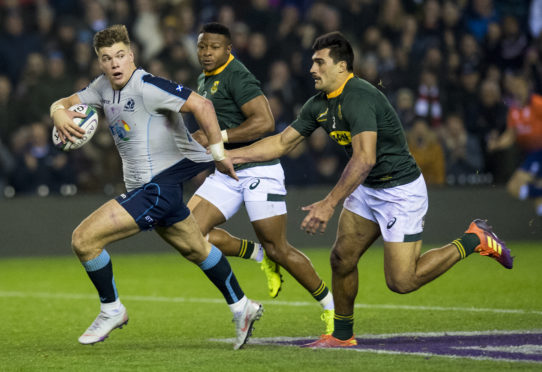 Scotland desperately want to sign off the Autumn Test series with a win against Argentina or risk losing momentum over the winter heading into next year's Six Nations.
Try-scorer Pete Horne felt the Scots matched South Africa physically during Saturday's clash at Murrayfield, but the ultimate 26-20 defeat means next week's fourth and final test will be a judgement on whether the Scots have regressed in November.
"We're pretty devastated with that defeat, similar to Wales," said the Glasgow centre. "I think it's a sign of the team that we've become – if we do have a defeat like that we learn from it and then we come back out firing the following week.
"It's not often that we get beaten twice, especially not at home."
It was Scotland's first defeat at Murrayfield in 2018 – they were gunning for their first unbeaten season at home since 1990, when they played only three games – and the mood is that it will be the only one, added Horne.
"There's certainly a real hunger to make sure that we finish on a high," he said. "There's nothing worse than losing in the last game of a campaign like this, because you've got a couple of months until you can put it right.
"Everyone's hungry and we'll be coming out firing next week."
Horne felt that at the death the Scots could have chanced their arm and won the game.
"It's a classic big Test match – it came down to a couple of little things. We didn't feel like we were far away, but maybe at a couple of our mauls they did quite well at slowing us down.
"If we could just have got the ball out of that maul and then backed our shape at the finish, you'd like to think we could have scored a couple of tries (late in the game)."
Defensively, but for two errors in the first half, the Scots did well, he felt.
"Although they kicked a lot of penalties and they're one of the best teams in the world at keeping a hold of the ball, it never really felt like they were going to score a try, especially in that second half," he added.
Head coach Gregor Townsend wanted a closer analytical look at the game but didn't believe the team were far away.
"My general feeling is the effort put in by the players was outstanding, we matched and competed with a real strong side, especially around the forward pack. Our defence was outstanding, especially at the maul.
"Our kick pressure was very good, our own kicking game was excellent. It was great to see (Horne's) try. It showed the players that, if they could get that width, good things would happen, and we got two or three line breaks from similar plays in the second half that just didn't end in tries."
Nonetheless he will look to switch around bodies for Argentina, who lost in Paris on Saturday night.
"There will be some tired bodies," added Townsend. "For players who have played three games, they will be tired, and November does give us an opportunity to test our depth.
"But Argentina are a really good side, so we need to pick a team able to give us a chance.
"There are obviously parts of our game we need to improve, but some of it is relevant to (South Africa), who we won't face again very soon. We won't play against a team with that line speed and that forward pack in the Six Nations.
"What we have to do is make sure that what we're learning in today's game is relevant to beating Argentina."
And Scotland will continue to play a wide game, he stressed.
"We have to play to our strengths, and they are players like Huw Jones, Tommy Seymour, Sean Maitland, Stuart Hogg.
"If we play conservatively, they're not going to get on the ball. We have to create ways to get them on the ball, but that isn't just passing, it's creating the counter-attack through kicking.
"That's the way we're playing. Because we know it will bring us success if we're accurate and we improve on these days, getting better and better."
Stuart Hogg went off with an ankle problem, but it isn't the same one that required surgery prior to the Autumn Tests and the move was precautionary, added Townsend.