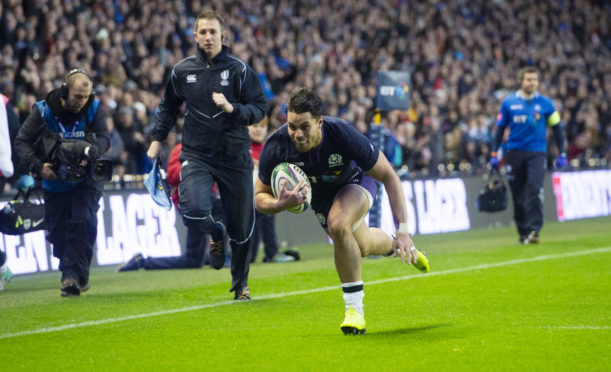 Sean Maitland scored the only try of the game to give Scotland a narrow edge over Argentina at Murrayfield and ensure the Autumn Test Series ended on a winning note.
The wing finished off an incisive change-of-direction move midway through the second half after the Scots had struggled to punch holes in a powerful Puma defence while having similar breakdown issues to those they suffered in defeat to South Africa last week.
Argentina will rue four missed penalties and a couple of glaring try-scoring chances in the second half, while they enjoyed the lions' share of possession, but Scotland put together their best defensive performance of the four November tests.
In attack the experiment of Adam Hastings and Finn Russell never really got going, Russell looking particularly subdued although the younger man had a couple of promising breaks that floundered due to a lack of support.
Scotland's try came after the experiment was shelved on the hour mark, but was down to the quick thinking of Greig Laidlaw and Stuart Hogg is spotting an undermanned short side of a ruck and supplying Maitland with the means to score.
But it was a disjointed performance by Scotland, underlining their continuing issues with physically dominating opposition if they fail to secure much in the way of turnover ball.
Scotland lacked any kind of spark in the sodden conditions in the first half, and were on balance lucky to go in marginally ahead at the break.
It looked initially promising as Blair Kinghorn got away om his wing for an early break, and when Santiago Medrano was offside at the ruck midway into his own half Laidlaw claimed an easy three points with three minutes not yet played.
Scotland's defence was then tested for a good 20 minute spell where they struggled to get any kind of territory, although Argentina lacked the penetration to make their dominance of the ball count.
They weren't helped by two straightforward penalty misses from Nicolas Sanchez and Emiliano Boffelli, but Sanchez' kicking from hand was causing problems in the falling rain for Hogg.
When Russell ill-advisedly tried a short drop out to himself, Argentina ripped away possession and Huw Jones had to be smart to get back to get the touch as Sanchez' little grubber kick bounced temptingly for Ramiro Mayano to chase.
The Scots looked a little incohesive at times, none more so when Adam Hastings retrieved a ball but got no support for the clearout when tackled and was caught holding on, Sanchez levelling the scores with the penalty, which was no more than the Pumas deserved.
However they held on for barely three minutes after Hastings found some space and a break, and although the support was slow in getting to the stand-off the Scots did recycle and win a penalty for Laidlaw to restore their narrow lead.
Argentina got back level quickly in the second half as their defence continued to stifle Scotland and Hastings went in at the side to support Jones, Sanchez booting the penalty, but the Puma stand-off missed their third penalty of the afternoon soon afterwards.
Again the Scots quickly struck back, Hastings picking up loose ball as the Scots moved it quickly to cut a line through the midfield and when Jones was high-tackled Laidlaw put the Scots back in front again.
Hastings departed soon afterwards, but the Scots' score that followed was thanks to a different route than through 10.
Jamie Ritchie won a key steal, the Scots attacked and they caught the Pumas short-handed on the short side of a ruck, Hogg injecting pace on to a Laidlaw pass and providing Maitland with a simple sprint down the touchline to score.
It went unconverted and Scotland were still unable to relax, Sanchez missing another kickable penalty – the fourth by the Pumas – and Geronimo de la Fuente's fumble just ten metres out wasting Argentina's only real line break of the afternoon.
Sanchez did kick a point-blank penalty for a scrum infringement with six minutes left and there were still more scares for Scotland as replacement Sebastian Cancelliere lead a breakout but the scramble defence held and Argentina knocked on.
Russell and replacement Byron McGuigan then fashioned a neat exit to take the pressure off and although Laidlaw was just short with a long penalty, the Scots snared the Pumas in their own 22 to close out the win.
Att: 67,200
Scotland: S Hogg; S Maitland, H Jones, F Russell, B Kinghorn; A Hastings, G Laidlaw (capt); A Dell, F Brown, S Berghan; G Gilchrist, J Gray; J Ritchie, H Watson, J Strauss.
Replacements: S McInally for Brown 61, A Allan for Dell 67, WP Nel for Berghan 50, S Skinner for Gray 67, R Wilson for Strauss 50, A Dunbar for Hastings 61, B McGuigan for Kinghorn 67.
Argentina: E Boffelli; B Delguy, M Moroni, J de la Fuente, R Moyano; N Sanchez, G Bertranou; S G Botta, A Creevy, S Medrano; G Petti, T Lavanini; P Matera (capt), R Bruni, J O Desio.
Replacements: J Montoya for Creevy 61, J P Zeiss for Botta 67, L Sordoni for Medrano 67, M Alemanno for Lavanini, T Lezana for Desio 50, M Landajo for Bertranou 50, M Orlando for Moroni 40, S Cancelliere for Delguy.
Ref: P Williams (NZ)