My usual rule is that there's more than enough discussion on football in this and other media outlets without my ever being required to add to it.
However, I'm breaking it this week as I was attracted by a comment from a rugby-hating, football-covering friend of mine this week.
He was deeply troubled by the 11th successive 67,200 sell-out of BT Murrayfield for last weekend's final Autumn Test against Argentina. That's every game for two full calendar years..
Meanwhile over at Hampden, still your other national stadium, the only sell-out for international football over the last two years was – unsurprisingly – the England World Cup qualifier.
A mere 21,281 turned up for the Nations' League match against Israel on a Tuesday night last week, and a direct comparison of the last 11 games at Hampden involving Scotland shows an average just a touch under 27,000.
Which means, of course, that 40,000 more people on average over the last two years have gone to Murrayfield than to Hampden for Scotland games.
I'm not one for my-sport's-better-than-yours childishness and I don't pretend to be a football expert. The last game I attended in a working capacity was immediately after Dundee FC went into administration for the first time in 2003, a League Cup tie at Dens Park against Hearts. Bobby Linn scored the only goal, so you know I was actually paying attention.
Clearly I shouldn't make even educated guesses why international football gets smallish crowds. It's intriguing though; I think I do have an idea why international rugby does well, and it's perhaps not what you'd think.
The short and popular answer is; the Scotland rugby team are quite good right now.
They've lost just two of those 11 sell-out games. They play in an attractive, open style, scoring tries, some of them quite spectacular ones.
This certainly doesn't hinder them, but these sellouts are a new phenomenon. Scotland played Argentina in 1999 in front of a crowd of less than 12,000, and it was the first game after Scotland won the last Five Nations playing champagne rugby of the highest order. The last game against the Pumas at Murrayfield was the last time it wasn't a sellout; although the crowd that day was just over 50,000, still decent.
To me there are two main reasons why modern international rugby does so well at the ticket office.
Clearly rugby has a different culture to football. Internationals are sacrosanct and unanimously the most important element in the sport. There are no friendlies; every game is supposed to mean something…even that extra game against Wales this November.
Thus, every rugby international has an attraction as an occasion in itself that – I suspect – some football internationals other than clashes against England don't seem to have.
In addition, the rugby games are decently scheduled and kick-off times help; Scotland games are never on weekdays, and we never kick-off later than 6.30pm.
All this helps Scotland rugby get a whole lot of "occasion fans", those not overly committed to the game but loving a Saturday out – and it is a good day out – supporting a national team.
There are times at the modern Murrayfield when it's abundantly clear the crowd aren't totally a rugby audience. Such as when someone in the North Stand (it's usually that one, for some reason) tries to jump-start a Mexican Wave when the score is 9-9, and those of us more committed frown and murmur contemptuously under their breath "watch the damned game".
Well over half, maybe as much as three-quarters of the Murrayfield crowd don't go to any other kind of rugby. I imagine the proportion of fans at Hampden who don't go to football games other than Scotland doesn't even approach that much.
Murrayfield does put on a good show. The stadium environs are packed with things to do, eat and drink. There are fireworks and flamethrowers and perhaps some people actually might quite enjoy the Red Hot Chili Pipers.
It's also marketed really well. Scottish Rugby saturate social media – all sorts – and the advertising budget is sizeable. There are also plenty of good ticket deals available way in advance.
The second, and more recent reason for Scottish rugby's big crowds I think I saw clearly last Friday trying to get into the stadium. My access was blocked by two lorries carrying multitudes of portable toilets.
At the South Africa game the previous week, it seems female fans had reached breaking point with the stadium's inadequate loo facilities. There was an impromptu invasion of the men's toilet cubicles and a veritable tsunami of complaints on Twitter the following week.
Scottish Rugby's response, keen not to alienate this important element of their audience, was to bring in scores of portables.
Murrayfield internationals now get big numbers of female fans, more than any major sporting event I've witnessed with the exception of Wimbledon.
Clearly it won't account for 40,000 and it's still nowhere near a 50-50 split of the sexes, but I'd be stunned if Hampden sees as much women as Murrayfield does.
Why do they come in such numbers? It's obviously a safe, female-friendly atmosphere.
I can't say for sure that Hampden isn't. But the queues at the ladies and the lorries with the loos suggest the rugby has stolen a march on football here.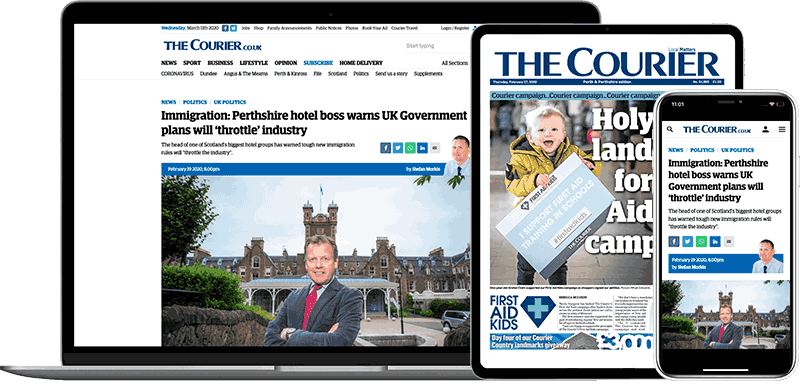 Help support quality local journalism … become a digital subscriber to The Courier
For as little as £5.99 a month you can access all of our content, including Premium articles.
Subscribe