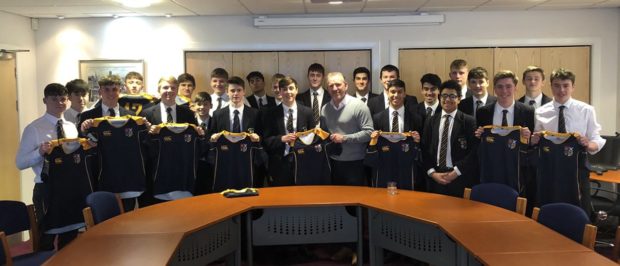 Former Scotland captain and former pupil Andy Nicol told the High School of Dundee's Under-16 team to "enjoy the best of days" in a special ceremony ahead of today's Scottish Schools Cup Final at Murrayfield.
The former British Lion scrum-half has followed the Under-16 team closely in both quarter and semi-finals of this year's competition and will be at tonight's final against George Watson's College on the international pitch.
In a special ceremony at the school yesterday Nicol handed out the match shirts to the starting XV and spoke to them about the biggest sporting day of their lives so far – and in his belief, probably the most enjoyable.
"They don't know yet that schools rugby is almost the best, the tightest and most together they'll ever be with any team," said Nicol, who went on to captain Scotland and also skippered Bath to Heineken Cup glory. "As schoolmates who've been together, some of them since Primary One and at least since first year, this is almost the best of days for them.
"I loved my schools career, we had two good sides in my last two years at the High School but we didn't have a Schools' Cup to prove we were the best team in Scotland, and these guys have that opportunity."
Andy watched both the quarter and semi-finals of the team in Edinburgh and was hugely impressed with their performances.
"I've always enjoyed schools rugby, it's before all the tactics and analysis comes in, it's just sheer commitment and effort and I love that," he continued. "I saw on social media a month or so ago that they were playing Edinburgh Academy in the quarter-final in Edinburgh and I know a couple of the parents of sons who are playing, so I popped over to watch and just thoroughly enjoyed it.
"They got through in a really gutsy performance in that game and then I went to see the semi at Fettes, which was a much more comfortable win. I'm always happy to help the old school, and I was delighted to go and present the shirts."
His message included the importance of acknowledging the occasion, but not playing to it.
"I'm sure lots of people will tell them to treat it like it's any other match, but I told them it's more important than any other match, it's a big crowd, at Murrayfield, and we're doing things like shirt presentations," he continued.
"I told them to use all that as motivation and inspiration. Enjoy it and play the game not the occasion.
"If they show the character they had to win that quarter-final, and the quality that they had in the semi-final, bring all that together in the final and see what happens."
Coach Christy O'Donnell is hoping the former captain's words will sign off the perfect preparation for tonight's big game, to be attended by 450 pupils on official school buses as well as staff and many more coming under their own steam.
"It was really good of Andy, and hopefully it'll be an inspiring thing for the team," said Christy. "The boys are obviously excited but also pretty calm about it from what I've seen.
"We had a couple of really good sessions, the last on Monday night, and we have a couple of big players back from injury in time for the final in Jamie Hutcheon and Hamza Chohan."
The High School boys haven't met their opponents since they were all back in first year, as the teams are in different conferences in the schools system.
"We usually have a fixture against Watson's in December but the weather's been so bad this last few years we've not actually played them for three years.
"Their schools conference is probably a bit tougher than ours to be fair, but we've won our conference two years in succession and we know a bit about how they play."
The team's only defeat this season was to Merchiston Castle School, but that served to strengthen the side, said O'Donnell.
"From a coaching point of view that was an important game because the team learned a lot about themselves, and it was a key moment in our season," he added.
High School rector Dr John Halliday will lead the contingent from Dundee through to Murrayfield tonight, and paid tribute to their success so far.
"The boys have done outstandingly well to reach the final, coming through some tough fixtures to make it to Murrayfield," he said.
"It's the culmination of years of  hard work which they, Christy and assistant coach Colin Sangster, have put in.
"I'm delighted that they will have such strong support from many pupils, and doubtless a large number of parents and Former Pupils, behind them as they seek to win the Under 16 Cup for the school for the first time. We wish them all the best."