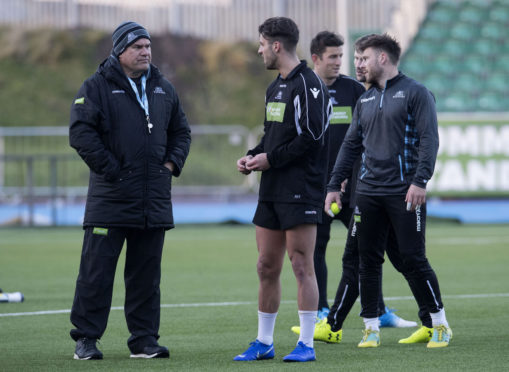 The characterful victory over Scarlets at the weekend has "created the pressure to keep building" on turning around Glasgow Warriors' Heineken Cup campaign, says head coach Dave Rennie.
Defeating a strong Scarlets side with so many fringe players involved convinced Rennie to change his mind about selection for this week's crucial game against Lyon in France, but the "pretty clear plan" he had in mind for the French side has not changed radically.
"Some guys will be rewarded, but we'll bring in fresh legs," he said. "Obviously, the international guys have played a lot and we needed to freshen them up mentally as well as physically.
"Even guys like Callum Gibbins, and Rob Harley who trained the whole time with Scotland without getting a sniff, we just felt we had to freshen them up.
"They've come back in, keen as. A few internationals have come back over the past few games but the group that has been here has done a really good job – 16 points from the past four games and there was pretty good opposition amongst that, Munster, Ospreys, Cardiff and Scarlets.
"Those boys have done a good job and the challenge for the guys coming back in is that we have to raise standards even more."
There has to be a balance between going back to his top names back from Scotland and those who have done him proud in the interim, he agreed.
"Quite often you can bring guys straight back from international rugby thinking it will strengthen you and it ends up hurting you," he added. "Hence the reason we left a number of those guys out last week and I think we'll benefit from that this week.
"You try to build momentum, you try to drive expectation – the good thing is that the group that played last week put a little bit more pressure on the whole squad to keep building what we are doing.
"What we know is that this is a massive game for us, and if we don't get it right then it is doubtful we'll get out of the pool stage, and if we get it right and get it right again the following week then we put ourselves in a really good position with Cardiff coming here in round five."
Lyon have two losses from two so far and the knowledge that a third loss will mean they are out of the competition in a competitive sense, but there are dangers lurking there, said Rennie.
"I imagine they will be desperate as it is a massive game for them, if they don't get it right their European campaign is over," he agreed.
"They are a side that offloads a lot and they kick the ball a fair bit. They're pretty creative – one of the best French sides around. We think there are opportunities but we'll have to be really clinical and look after the ball.
"I'm not sure what their mindset will be if we get a result there. But anyway at home, the French sides are different creatures."