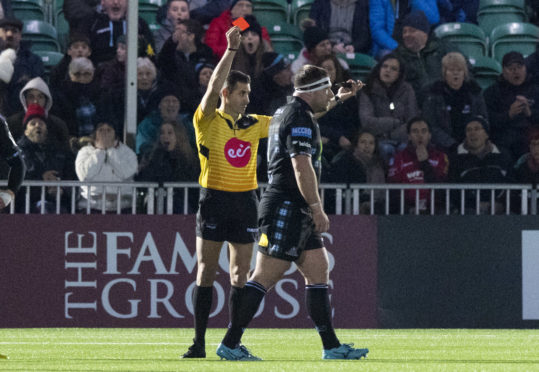 Referees have a tough job at the best of times, especially in a hard contact sport like rugby.
Often the methods used to help them through the morass of difficult judgement decisions end up highlighting additional issues.
This is one nonsense argument against TV Match Officials, instant replay, VAR, whatever you want to call it (don't get me started on another, those who harp on about consulting TV evidence "interrupting the flow" of games).
I don't know of any outright and inescapable miscarriage of justice that has occurred in rugby since TMOs – those with sufficient camera angles at least – were brought in. I know of many that occurred before their introduction and several that have happened since they were introduced but for some reason went unused.
(Sorry Craig Joubert, we're never going to let that one go).
Anything that assists the referee in making a proper conclusion is far preferable to letting a glaring mistake stand. And there are unquestionably less glaring mistakes made in the game now.
If you believe the more siren voices, we got a miscarriage of justice, and an example of that coaches' favourite, inconsistency, as recently as Saturday night in Glasgow Warriors' PRO14 game against Scarlets at Scotstoun.
Alex Allan, the Warriors prop, was red-carded in the first half when his shoulder connected to the head of Scarlets lock Jake Ball. Later in the game, Scarlets replacement Tom Phillips was given a yellow card when his shoulder connected with the head of Tim Swinson.
The incidents were "identical" to some, "similar" to many. Some extra-strident people brought up Owen Farrell's two no-arms hits in recent internationals, neither of which brought as much as a penalty, and howled in more frustration.
The England stand-off is currently the bete-noir of non-Englishmen everywhere (mostly for his chippy on-field attitude we'd probably love if he was on our side) but there was absolutely no correlation between the incidents on Saturday and Farrell's "tackles" and to claim otherwise is spurious.
On Saturday the referee Frank Murphy, after seeing the footage, correctly spotted that the two incidents in his game weren't really very similar at all.
Both were no-arms tackles – now a penalty offence (although NOT necessarily a yellow card) – but Allan, albeit unintentionally, made direct contact with his shoulder to Ball's jaw, with considerable force. Under the letter of the law – there is no "intent" defence – it was a clear, unequivocal red card.
Phillips, on the other hand, went in a little high but his initial contact was to the chest area, and the impact – while not as forceful as Allan's – and Swinson's momentum pushed him up into the lock's head area. Mitigating circumstances, and clearly a yellow not a red.
As for similarities to Farrell, don't be silly. Neither of Farrell's hits were anywhere near the head area. He probably should have been penalised both times, but that decision falls easily within a rugby referee's discretion and interpretation.
As a wider issue, the protocols around contact to the head are not simple, and they're pretty much still a work in progress.
Like the altered rules to deal with scrum engagements, tip tackles and making contact with an airborne player, there's probably still a little fine-tuning to do before we get to a firm solution. Tip-tackling was first really focused on at the 2011 World Cup, and seven years on you hardly see an occurrence of it, while everyone's now clear on what is and what isn't permissible.
Ideally, the same will happen with hits about the head area. And make no mistake, it's absolutely vital for the future of the sport that something is done about lowering the tackle impact area, and reducing as much as is possible the dangers of concussion.
If we want to do this, and we surely must, then a little confusion for a while – or inconsistency and injustice if you're insistent on overreacting – is a small price to pay.
A shot in the arm against cynicism
After four weeks of November internationals, with the same players and coaches saying roughly the same things they've worked out long beforehand in media training, the Schools Cup Finals, staged last night at Murrayfield as always in the first week of December, tend to be a huge lift to the wavering rugby writer/cynic.
I was reminded speaking to former Scotland skipper and now pundit Andy Nicol about this when previewing the Under-16s final at Murrayfield last night.
Andy was effusive about schools rugby, both his time in it and the High School of Dundee team he'd seen in their last two games.
This veteran of Scotland internationals, international tours, the British Lions, winning European Cups with Bath, regarded his last couple of years with his school team as "the best of times" – and they didn't even have a Schools Cup to play in that era.
There's a simple exuberance in the schools game that's impossible to be cynical about. I probably end up enjoying this occasion – even in arctic temperatures and the Murrayfield press box is already the coldest place in the western world – more than any senior rugby I see all season.