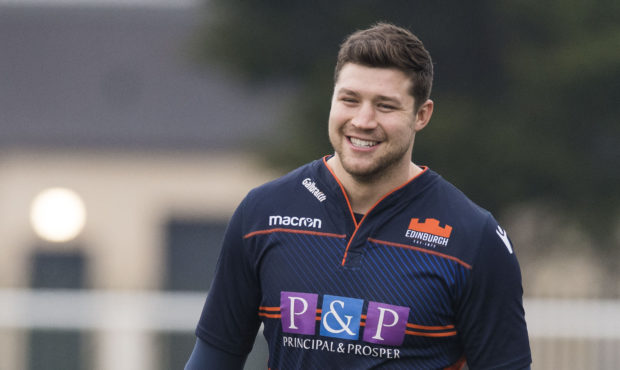 Edinburgh are ready to grasp their – slightly unexpected – opportunity back at the top table of European rugby, believes Grant Gilchrist.
The Scotland lock is one of only a handful of players who survives from Edinburgh's great semi-final run in the Heineken Cup in 2011-12, and one of those who yearned to get back to the top table after four years in the second tier Challenge Cup.
Now they're here, they lead Pool 5 at the halfway stage and go to Newcastle this weekend with a serious chance of taking a huge step towards a last eight place.
"For us being back at the top table was always the goal," said Gilchrist. "The first two weekends, there was a real buzz about the squad anyway but that has gone up, certainly after the win over Newcastle at the weekend.
"You only have to look at the table and see what opportunity lies there. It is now in our hands, we understand that."
The fact that it's been so long since Edinburgh enjoyed real success in the top competition is a motivator, he adds.
"I have been here for eight years and this is our first chance to get there again since then," he pointed out. "We have been poor in Europe, certainly in the Champions Cup, since then.
"These opportunities don't come along every year, so when they do, you really want to savour it and make sure you put your best foot forward. It adds to the excitement in the squad to go out there on Sunday and see if we can get the win to put ourselves in a great position."
Expectations were low for Edinburgh in their first year back, with an inexperienced squad in European terms and with big-spending French clubs like Toulon and Montpellier in their pool, but the standings are almost upside-down from where many expected them to be at this stage.
"We were just excited to be playing them and really challenging ourselves," said Gilchrist. "We just wanted to see where we got to.
"Before (the opening game) against Montpellier there was a nervous energy around the squad about how we would cope. We had played in the Challenge Cup for a good few years and were not sure how well equipped we were to handle (the top competition).
"We came so close in that game and the belief we got from going to one of the hardest places in Europe to win, competing well yet feeling disappointed, gutted, that we had not got a win…
"From that point the attitude started to shift from `let's see where we're at' to `we're in this fight, let's go out and play our best knowing that if we do play our best we can win these games'."
Newcastle are likely to put out a stronger side than last Friday – although their tighthead issues continue – which will negate the oddity of playing the same team twice in two weeks.
Gilchrist continued, "We have experience of it in Europe and the 1872 Cup but it's always a bit of a strange feeling, do you want to change up the tactics a little bit, or do you stick with the same plan and hope it works again?
"There's a balance to be struck in that but I'm sure they'll make a lot of changes this week so for us this doubleheader is probably going to be like playing two different teams.
"We know their strengths and weaknesses of whatever team they're going to play and we'll be ready for them."