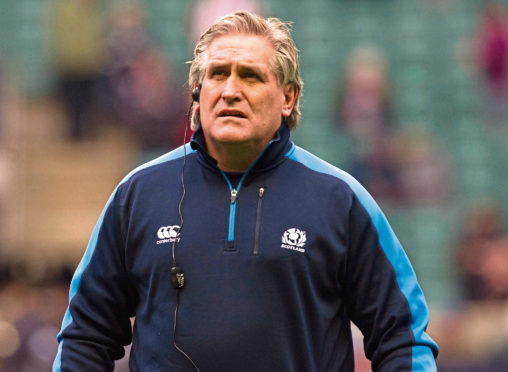 Scott Johnson, the now departing Director of Rugby at Murrayfield, is very much a Marmite kind of guy – or maybe that should be Vegemite, given he's an Australian.
When he first came to Scotland after a long spell best described as colourful in Wales, a friend and colleague from there told me "you'll be charmed by him to start with, but his act wears thin quickly".
Which was just about exactly what happened. Johnson provokes contrasting opinions; some people within the Welsh game still greatly admire him, others can't bear the sight of him.
That odd balance has been repeated in his time in Scotland. For the first spell here, he was national coach – an "interim" one to be sure, but it lasted a good 18 months.
Replacing Andy Robinson, the progress under Johnson remained the `one step forward, two steps back' pattern we had suffered for a decade or more.
Scotland won just five of the 16 tests under his watch, which is the second worst record of any Scotland coach of the professional era, behind his fellow Australian Matt Williams (there's a message there, somewhere).
At the start, Johnson's way with a smart quote rather masked the obvious fact that he was out of his depth as a coach. By the time he handed on to Vern Cotter, as my Welsh friend had predicted, we were all pretty tired of him.
Johnson stayed at Murrayfield for the post he had been employed for, Director of Rugby, with a specific responsibility to developing all facets of the elite game.
From being almost a ubiquitous figure, Johnson almost vanished from the public eye. Any strategic announcements under his remit invariably came from the mouth of the chief executive Mark Dodson; it was almost as if the very presence of Johnson in a public form was deemed to be toxic.
But what was he doing all that time? Well, a pretty decent job, if the evidence is anything to go by.
Scotland's elite team performance is hugely improved across the board – national team, Under-20s and other age groups, women, 7s (somewhat ironically, as we'll address below).
The Academys are up and running – they had started previous to Johnson but he piloted them in the right direction – and producing significant talent in greater numbers than before.
Coaches are coming through the pathway at a better rate than ever before.
Johnson is not wholly responsible for this success, of course, but as the overseer and co-ordinator of it all he has to be handed a good deal of the credit.
His biggest success might be recruitment. The Cotter appointment was a bit untidy but turned Scotland's competitive fortunes around. Since Johnson went to his DoR office, the national team has a win-loss record of 30-24; prior to Cotter it was 39-69 (with one draw) under the previous four head coaches.
The recruitment of Dave Rennie and Richard Cockerill to the pro teams, the sourcing of players from outwith Scotland's development system to augment the home talent are all partly down to Johnson's input.
He has not been completely successful; he wanted to ditch the 7s programme before an outcry (and a remarkable improvement in performance) prompted an about-face.
The refereeing development programme remains a mess – there are far too few Scots refs at the elite level. And there's no question that the attention on elite performance has come at the expense of grassroots development as a whole.
But balancing all that, Johnson leaves Scotland in an immeasurably more healthy state than he found it.
Still, the love-hate thing persists. I saw plenty "good riddances" on Twitter and many acting with mock surprise that he was still at Murrayfield because his profile had been so low.
But you can't have it both ways. They were sick of Johnson when he was glib as national coach, then annoyed when he kept his head down and his mouth shut.
In any case, I think Johnson was ultimately a pretty unwilling head coach of Scotland – he filled the gap between Robinson and Cotter because there was no-one else. He knew, as we discovered, that his real skills lay as a DoR and not as a coach, but he did it anyway, which says something about the man.
It's sad that the head coach stint clearly coloured many people's view of him for the rest of his time in Scotland. I think he's been a pretty decent DoR, and a tough act to follow.
Glasgow muscle up to have the edge
It's 1872 Cup fortnight, at a buoyant time for the two pro teams, both coming off December doubleheader doubles and both on the verge of the last eight in Europe.
Edinburgh are defending the trophy, and I was one of the few who predicted they'd beat Glasgow last year. The capital side's strengths just matched into the Warriors' weaknesses so well.
That was true a year ago, but not now. Edinburgh still have the better pack, but Glasgow are no pushovers anymore when it comes to an armwrestle. It's been a notable transfomation this year.
And the Warriors have retained their attacking philosophy at the same time. I see them regaining the wee jug this year.