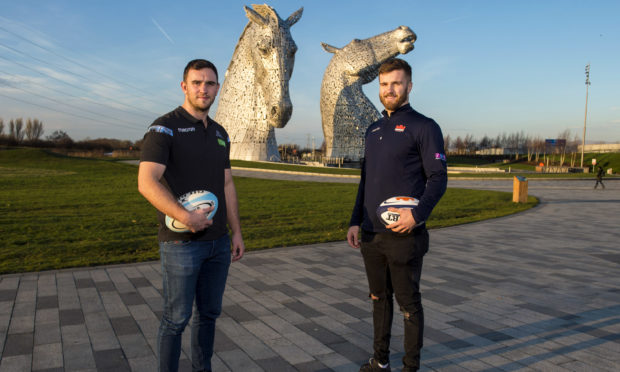 Running out to see both tiers of the East Stand at BT Murrayfield packed out is the big inspiration for Edinburgh to retain the 1872 Cup, not the "bragging rights" that rarely get bragged about, says Stuart McInally.
Having wins over rivals Glasgow Warriors behind them going into Scotland camp "is good to know" for McInally and his Edinburgh team but it's the fans that give the real motivation, especially over the festive leg at the national stadium, where a record crowd is anticipated.
"The fact that it is over the festive time of year so you are always going to get a good crowd here at BT Murrayfield in that first leg, and that adds to the excitement," said McInally.
"We love playing here, it is our home and we are proud of our home record, especially in these games where you are running out to a full top and bottom tier and the crowd is round the side as well.
"It is something to know they are there to support Edinburgh – the majority are anyway – which is great.
"It does give you a lift when you run out of the tunnel and there's lots of fans there; for Glasgow as well, if they see a lot of Edinburgh flags and fans it's only going to help us. We hope to see a record crowd."
There is a definite extra edge to the game with the players knowing each other so well from Scotland squads, but the banter is fairly restrained in the build-up and afterwards – at least it has been recently with Edinburgh having the upper hand.
"We prepare as we always do though we will always find that wee bit extra because it is that local derby," continued McInally.
"People talk about big bragging rights and all that, but it is not like that. There is rivalry there and you want to win because you want to get one up on them, and it is better going into Scotland camp when you know you have got that behind you, but it is not something you tend to rub in their faces or anything."
For Edinburgh, using the 1872 as they did last year – a springboard into a strong second-half that saw them reach the PRO14 playoffs – is needed again in the league terms, although Europe could hardly be going better.
"The Newcastle wins certainly helped get a bit of momentum going into this week," added McInally. "Going down to Kingston Park at the weekend against a fully loaded Newcastle team was a really tough match, we had to work really hard to get that win and that is exactly what we expect this week too.
"We will have to be at our best and work really hard to beat Glasgow how have been going really well in the PRO14 and in Europe as well."
The difference for Edinburgh now is the "hard edge" Richard Cockerill has brought to training.
"I feel that is the cornerstone of why we're doing well at home, winning  at the death sometimes because we do work really hard at training; there are times in games where you find those reserves because you've done it all in training.
"It's belief. Richard knows what he's talking about, he's got a proven track record with Leicester as a player and coach and did well with Toulon before coming here.
"You know what he's telling you works. He's got that behind him and everyone buys into it which is excellent."