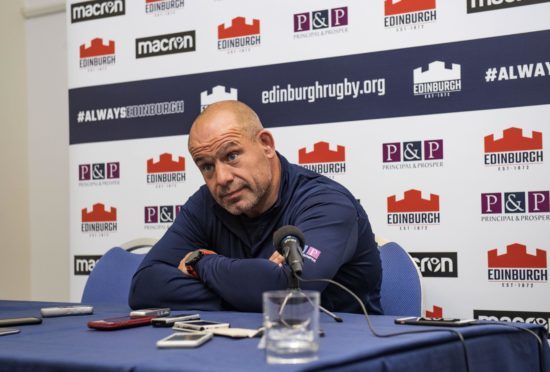 As tenacious as ever, Richard Cockerill simply won't let go of his grip of the underdog tag going into today's 1872 Cup first leg at Murrayfield.
Even though they beat Glasgow twice at the national stadium in his first season and have won the little jug twice in the last three years, Cockerill has the ears trained for perceived slights from the opposition and spent much of his press session talking up the opposition.
"I've already read that (Adam) Hastings says they're going to take ten from ten, so that's cool, we'll see," he said yesterday, referring to the Glasgow stand-off's comment that the team were seeking a maximum return from the two festive derbies rather than actually expecting it.
"Is (that comment) up on the notice board? I don't need to," he added.
"It is always better to be the underdog isn't it? They (Glasgow) are the ones that score the nice tries, that are top of their conference, they are the ones that score 4.4 tries on average, the most line-breaks, the most pin-up boys so we will give them the favourites tag."
It's all a ruse, of course; Cockerill believes his side can upset whatever odds are against them (and there aren't that many) against this year but the truth is that Edinburgh need the points more than their rivals do, and therefore for Cockerill there's no question of the rotation Dave Rennie is able to indulge in.
Not that he would rotate anyway, he claimed.
"This is the best team, the best 23 we can pick," he said of a team showing just one change – Pierre Schoeman swapping the bench with Allan Dell – from the team that won in Newcastle last Sunday.
"We are working hard but we are still a team that is building round our depth and the depth of our quality. The Warriors have been at this a lot longer than us and have good depth and have two centres they have chosen not to start (Huw Jones and Alex Dunbar) that would probably walk into most teams and we have not got that depth yet.
"We have some good players and we back them. Guys like Darcy (Graham) and Blair (Kinghorn) are very good young Scottish lads, so we have to back them and play them so that in two or three years' time they will be a force to be reckoned with."
But as far as Cockerill is concerned, the "real world" is fronting up week after week and damn fatigue or rest weeks.
"The good teams I've played in or coached, players have to back up and they have to play big game after big game, because that's what you have to do," he said.
"You can't play a couple of big games and have a week off, it's not how the real world works. We manage our training week, the boys are well prepared, we've very motivated to get the league points first and also play our nearest and dearest.
"This is what it's all about, this is where you built resilience and the tough men stand up, fight their corner and earn their money. That's just how it is."
He's interested in Glasgow toughening up from last year, when most thought Edinburgh gave them a going over in the two games at Murrayfield at least.
"We're going to go hard up front but all I keep hearing is how tough they are this year," he said. "They've been to fight club in pre-season and they're all now really hard. We'll see.
"They'll come and test us and we'll stand toe to toe and trade blow for blow. We're a good side too. Derby matches are derby matches, we've got to roll our sleeves up and see where we get to."
Meanwhile Grant Gilchrist has signed a three-year extension to his contract to take him up to age 31, and it seems likely the Alloa-born lock will spend his entire career with the capital club.
Gilchrist had been earmarked by French teams in the past, but although he's returned to his best international form in the last year he's perfectly happy at home.
"It was a no-brainer for me," he said. "I think there are two things: they're getting the best out of me, and I feel like I'm getting better here, which is something that I really care about.
"Also, I really love the direction we're going. We've got a great group of guys and I want to be part of success here. I feel like it's on the cards for the club."
Edinburgh team: Blair Kinghorn; Dracy Graham, James Johnstone, Chris Dean, Duhan van der Merwe; Jaco van der Walt, Henry Pyrgos; Pierre Schoeman, Stuart McInally (capt), WP Nel; Ben Toolis, Grant Gilchrist; Luke Hamilton, Hamish Watson, Bill Mata. Replacements: Dave Cherry, Allan Dell, Pietro Ceccarelli, Callum Hunter-Hill, Luke Crosbie, Nathan Fowles, Simon Hickey, Juan Pablo Socino.