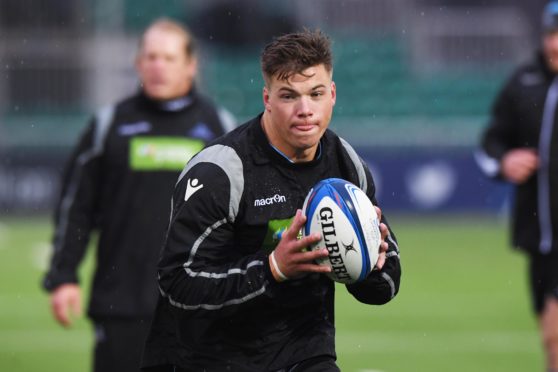 Glasgow Warriors fans got a welcome Christmas present to at least partially make up for the 1872 Cup loss at Murrayfield with the news that Scotland centre Huw Jones has agreed a two-year deal to stay with the club.
The 25-year-old had been aggressively courted by several clubs and reports from the English Midlands had Leicester Tigers on the verge of a deal earlier this month.
But Jones said that long discussions with Warriors head coach Dave Rennie, Scotland coach Gregor Townsend and outgoing Director of Rugby at Murrayfield Scott Johnson had convinced him his immediate future lay in Scotland.
Born in Edinburgh but brought up in England, the centre was "re-discovered" playing in South Africa for Western Province and first capped by Vern Cotter in 2016 in Japan.
He marked his Murrayfield debut with a brace of tries against Australia later that year and has now scored 10 tries in just 19 appearances for his country, including four against England including two in the epic Calcutta Cup victory in February.
He's played 15 times for the Warriors and scored four tries, and improving that record with the club was one of his motivations for re-signing.
"It was a couple of things," he said. "Obviously I chatted to other clubs, I'm sure most players do when they're out of contract at the end of the season.
"But I had in depth chats with Dave Rennie, Gregor Townsend and Scott Johnson about my future. They've been around long enough and seen players who have come to Scotland and been in my position and I think at the moment, for my career, it's good to stay for another couple of years.
"With Glasgow, unfinished business is a good way to put it. Having been here over a year now I've probably not achieved as much as I'd like to with the club and haven't played as much as I'd like to. It's a good opportunity to do that."
Jones also sought out counsel from experienced team-mates including Stuart Hogg, who will finish a decade with the warriors when he leaves at the end of this season.
"I did seek out advice from guys I lnow who have been in the same position as me vefore, and Hoggy was certainly one of them," continued Jones. "I got good advice from guys I know and trust, players from all over the world, and when it all came down it I think I've made the right decision."
The fact that Dave Rennie will shortly announce his extension for another year at head coach was another dealbreaker for Jones, as is the care of home-based Scots in terms of playing time.
"Welfare comes into it, obviously you just want to play as much as you can but it's the medics' and coaches' job to manage you from a recovery point of view.
"It's also a big couple of years coming up on the field with Glasgow and international rugby as well, so rest will be quite good. Also the way Glasgow are going, we're doing pretty well in the league, going well in Europe.
"It's an exciting club to be at. Dave has re-signed so we've got a good coach for another year at least and it's encouraging."
The first staging post will be getting revenge for Saturday's defeat in the second leg of the 1872 this week, but Jones didn't think the Warriors were caught cold by Edinburgh.
"I wouldn't say it was a massive change from them," he said. "They played well last season and they're a good team.
"They came with a game plan, mostly kicking and putting us under pressure, making us play and make mistakes which fell right into their hands. Obviously we'll have to change quite a lot this week, deal with that better, play in the right areas and keep hold of the ball.
"We tried to play a bit to no avail. Even when we got into their 22, we didn't do too much with the ball and didn't take our chances."
"But they are a good side. We'll have to be a lot better."
Jones' contract completes a week of re-signing announcements that has seen the Warriors secure young stars like Jones, Adam Hastings, George Horne, Zander Fagerson and Scott Cummings, new graduates from the Academy in Stafford McDowall and Grant Stewart, and veterans in Tommy Seymour and Niko Matawalu.
Head coach Rennie is expected to complete a deal for a year's extension to his current deal taking him up to the end of the 2020 season.