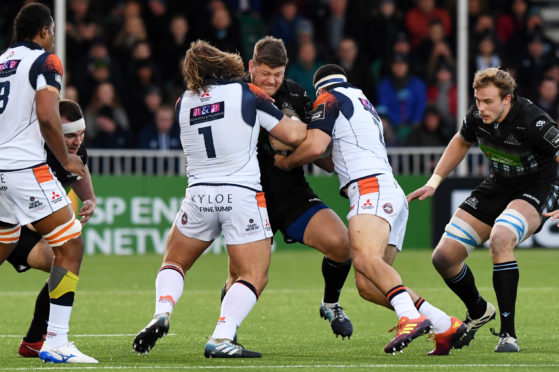 Glasgow Warriors have to ensure that Saturday's second successive defeat to Edinburgh doesn't become the same sort of season-defining reverse as last year's Heineken Cup loss to Leinster.
Picking up apart the wreckage from the 16-8 loss to their rivals from the capital may take some time for Dave Rennie and his coaching staff, not just because they failed to cope with an entirely predictable approach from Richard Cockerill's team.
What made things worse was that while Edinburgh did exactly as they said they would – almost exactly as they had done seven days earlier in their 23-7 win at Murrayfield – the visitors also showed far more penetration with ball in hand and even out wide than the Warriors did.
The 16-8 scoreline didn't properly reflect Edinburgh superiority on the day, George Horne's late try rather embellishing a laboured day in attack for the Warriors. But while the lack of stress on Edinburgh's try-line was a surprise, what was even more troubling was the disintegration of the Warriors' setpiece.
Four lineouts were lost or stressed in the Edinburgh 22, and a couple more coughed up in open field. The scrum endured a torried afternoon with Pierre Schoeman and WP Nel exerting continued pressure on the Warriors callow front three.
Without that forward platform, Glasgow couldn't hope for the quality possession to put Edinburgh's rush defence under strain. It was scarily reminiscent of the Leinster game in October last year, when the eventual Heineken Cup and PRO14 champions simply squashed the life out of the Warriors and set the template of how they were to be beaten for the rest of last season.
Rennie has several headaches, not least requiring to rely on the young hooker Grant Stewart for the next two months in the injury absence of Fraser Brown and George Turner. Stewart was kept inside at half-time, an illustration of his difficulties at the lineout.
"We are not going to panic," said Rennie. "We're disappointed with the performance but it's not terminal.
"There's a lot of things we've done well over recent weeks. This will force us to have a look at what we're doing and be a lot sharper in a couple of key areas. There will be learnings."
Edinburgh targeting Glasgow's quick ball was nothing new, he argued – "all the teams we've played so far are trying to slow out ball down" – it was the quality of the Warriors' play that was the problem.
"The key for our quick ball is the quality of our footwork and big men in contact, winning races in and then playing at a tempo," he went on. "The issue last week was that we didn't work hard enough to get in position quick enough to expose them.
"Everyone is well aware it's an important part of our game and they will do what they can to slow it down. We just need to be better in that area."
As far as the setpiece goes, Glasgow haven't ruled out bringing in another hooker, said Rennie, but they had faith that it was simply a bad day for Stewart.
"We still believe we have a good scrum," he said. "We'd like consistency around how that is officiated and think that will make a difference.
"The lineout was disappointing, but all hookers of all levels have little blips and bad days. We're not going to hang the kid over that."
Glasgow will take a strong side to Treviso for their first PRO14 game of 2019, said Rennie, with the accent on competing for places for the home Heineken Cup match against Cardiff Blues.
"We know what we need to do," he said. "Some of it might be solved by selection.
"If we can get better carries and footwork and win races in we'll get faster ball and stretch defences."