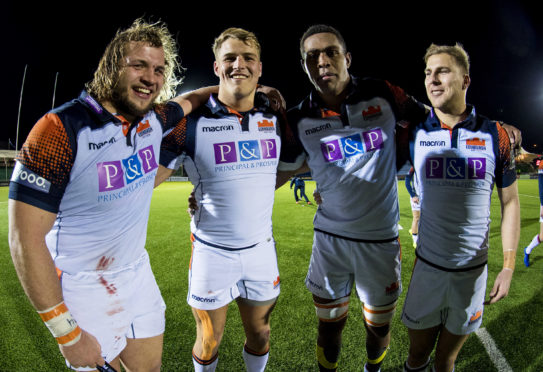 Edinburgh's new cult hero Pierre Schoeman wants to keep grinding to maintain the club's momentum in the four-game winning streak that has transformed their season.
The South African is having a ball in his first season in the Scottish capital, quickly becoming a fan favourite with his buoyant personality, the way he has embraced the club and fans and his outstanding play at loose head, crowned with a man of the match performance in the second leg of the 1872 Cup against Glasgow last weekend.
Many of his old mates come to BT Murrayfield on Saturday night with the Southern Kings as Edinburgh seek to continue their recent surge into 2019.
Schoeman, as one of the players not involved in Scotland international protocols, is likely to be asked to press on by Richard Cockerill as Scotland caps need to be rested with two crucial Heineken Cup matches in the next fortnight and the Six Nations only a month away.
"Four wins, two of them away from home, that counts for a lot," he said. "It shows some character and shows the building blocks we are putting in place are coming through the system.
"Good results, especially in away games, show your character and mentality and the base you build when you are preparing at home.
"I fancy another game this weekend but one has to be honest about it as well when you look at the two Newcastle games and two Glasgow games we've just played.
"Guys that start all four, like WP Nel, maybe you give them a week off because next week is Europe again and then there's the Six Nations coming round the corner as well."
The best thing about the win at Scotstoun – the players don't actually get their hands on the trophy until the final match in April – was the knowledge that they could back up the victory at Murrayfield, he said.
"We knew (Glasgow) were going to double up this week so mentally we had to prepare for that," he said. "From the management right through to the guys on the rehab, everyone was a wee bit more focused this week.
"And it does not get any easier now, because now teams are going to come for us. Looking to the future with the European games ahead – you can't go up and down, you have to maintain a good solid performance week-in, week-out."
And even though the Kings haven't made many dents in the opposition again this season, Edinburgh have to keep their focus even if there are a number of changes in the side.
"We will see this week, maybe there is a bit of rotation, maybe not, but we need to log points as well," added the prop. "I have a lot of mates at the Kings from Under-20s and guys I played Currie Cup with and against.
"They are going to come for us. They have done some damage in South Africa as you have seen in the past games.
"I don't think they like the cold that much, PE (Port Elizabeth) does not get that cold even in the worst winter. No surprises, we have to prepare exactly the same."
From a personal point of view, Schoeman is hugely enjoying his time in Scotland.
"It's been phenomenal," he said. "It is a very professional club on and off the field, which Cockers is driving strongly.
"Discipline is key right through from the management even to the guys cleaning at Murrayfield, it is a big policy in our character set-up. We reap the fruit on the field.
"You have to fight to get into the team and perform. I had to earn my spot and to earn your spot, you have to work hard."