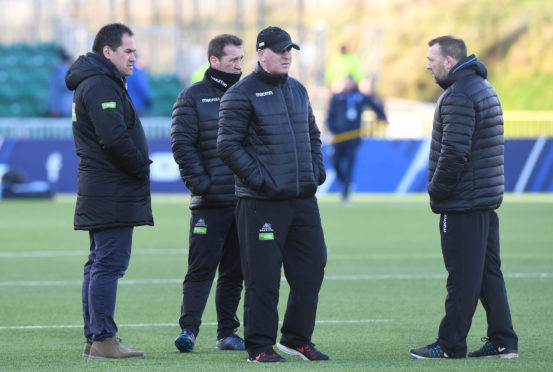 Glasgow Warriors are looking to recover the physical edge they had three months ago and the "optimistic" support lines which lead to so many of their free-scoring exploits – even against the smothering defence of former European champions Saracens in the Heineken Champions Cup.
Attack coach Jason O'Halloran conceded that the Warriors have fallen off a little from the new physical approach they'd shown early this season and certainly in scoring tries from line breaks – only Niko Matawalu has scored from their back three strike weapons since back in November.
George Horne has been carrying the loads with his support running, but O'Halloran know that matching Saracens' physical approach and finishing those linebreaks are the only way the Warriors can upset the odds, beat the English champions and win Pool 3.
"They are outstanding defensively, with that wolf pack mentality," said O'Halloran. "They bring a massive amount of line speed and intensity around the tackle area so you've got to be smart in the way you box with them.
"We've definitely got to challenge them physically, there's no getting away from that, with a good setpiece to play off – and I thought we did that well when we played them  a couple of months ago – and then managing the game really well around the 9 and 10 area."
The Warriors went gone toe-to-toe with Sarries at Scotstoun in the opening pool game, but still lost 13-3 as they didn't convert one of their six linebreaks, which are in short supply against this formidable team.
"I would agree that we haven't been at that level (of physicality) since and we need to get back to that," he said. "The good thing from last weekend (against Cardiff) is that our set-piece was really good. We dominated the scrum, the lineout maul was really effective, and that's the cornerstone of what you do.
"To be successful you have to work around your own strengths. We are known as an attacking side, so teams will have a go at our set-piece so we don't get ball. They'll attack the breakdown so our ball is slow and they will bring line speed to cut off the wide channels.
"So if we make six linebreaks against Saracens, we probably need to convert three of those. Against them, you don't have the luxury knowing you're going to make 15 linebreaks in the game, it just isn't going to happen."
Glasgow will be without Callum Gibbins, still being assessed on a lower leg injury, Matt Fagerson and Pete Horne for the trip to Allianz Park, and have called in back rower Matt Smith as cover for the back row.
"Chris Fusaro's been excellent through the last two seasons and we really like Matt," said O'Halloran. "He's got a lot of physicality, he's a good defender, he comes hard and he loves the physical element of the game, he's quick and he's brave so we've got every belief he'll will play well if given the opportunity.
"Obviously the physical part of the game is the key criteria around our selection  so that'll become clearer in the next 48 hours."
But it helps Glasgow that they know there's little room for any thought of complacency in p[laying the likes of Saracens away.
"I think that's right," said O'Halloran. "Some of our best performances of the past two years have been against Munster, because we know when we play them that if we get it wrong physically we can get embarrassed.
"The little edge can bring out the best of us physically. The threat of what Saracens could do if we don't get it right should have us at our best."